A federal judge ruled that the Trump administration's detention of asylum seekers must stop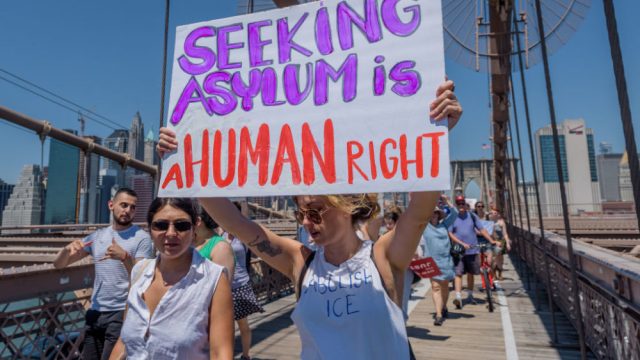 For the two months it has been in place, President Donald Trump's zero tolerance immigration policy has been met with backlash. Protests opposing the Trump administration's practice of separating and detaining immigrant families (including asylum seekers) have swept the country. And federal courts have also been trying to halt the administration's immigration policy. On July 2nd, one federal judge ruled that the Department of Homeland Security's (DHS) detention of asylum seekers was unlawful.
The New York Times reports that Judge James Boasberg, of the Federal District Court for the District of Columbia, issued a ruling that prevented the government from detaining immigrants who show evidence of "credible fear" of danger or persecution in their home countries. In his ruling, Boasberg wrote that the DHS had broken its own rules by holding asylum seekers no matter their reasons for coming to the States.
Boasberg's ruling came in a case brought forward by nine asylum seekers, represented by the American Civil Liberties Union. As Boasberg explained in his decision, these plaintiffs argued that under Trump, the number of asylum seekers released due to "credible fear" had plummeted, down from more than 90%  before Trump. Between February and September 2017, 0% were granted parole at ICE offices in El Paso, Philadelphia, and Newark. Meanwhile, 8% were granted parole in L.A. and 2% in Detroit.
The judge also pointed out that "the dramatic departure in parole-grant rates from years past has not been explained in any way" by the government.
As Politico noted, Boasberg's decision only applies to those who claim asylum at an official port of entry and whose cases are handled by one of the five previously mentioned ICE offices. Immigrants who cross the border illegally can still be detained. And since Attorney General Jeff Sessions recently declared that domestic violence victims no longer qualify for asylum, Boasberg's ruling probably won't help those escaping a violent home situation.
According to USA Today, the nine plaintiffs won't necessarily be released as a result of the ruling. But Michael Tan, senior staff attorney for the ACLU's Immigrant Rights Projects, told the magazine that other asylum seekers could benefit.
"This ruling means the Trump administration cannot use indefinite detention as a weapon to punish and deter asylum seekers," Tan told USA Today in a statement.
https://twitter.com/udfredirect/status/1014133215760658435
Monday's ruling is good news for all those seeking refuge in the United States. But the Trump administration's zero tolerance policy is still in place. We can't stop fighting for immigrants.