Health
What to pack for a destination wedding

+

Don't waste time looking for a pharmacy when everyone else is at the beach.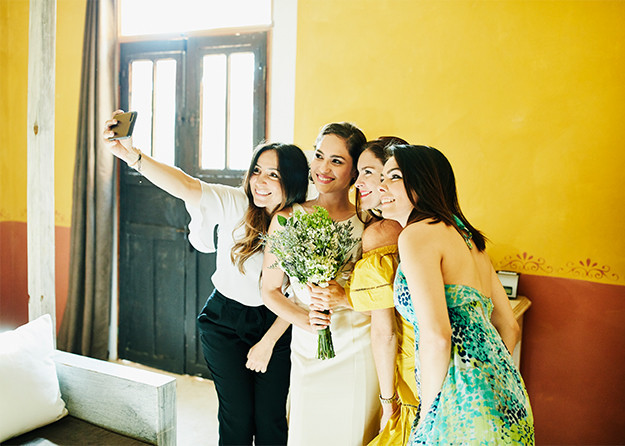 The minute you were invited to your friend's destination wedding, you booked your flight and accommodations—and haven't done anything to prep for it since. While it's a great excuse to take a vacation, there's a lot to take into account when planning for a trip that also includes the biggest day of your loved one's life. For one, the multiple activities and events mean tons of outfits, and the packed itinerary or unknown location can make it hard for you to make time for last-minute errands. Here are some essential items to pack so you can spend more time sunning on the beach, hiking, or sightseeing with the almost-newlywed couple and other guests.
Travel Documents
If traveling overseas, you know you need your passport, but make sure double-check the expiration date before booking your flight. Make sure to have copies of your confirmations and passport on paper (yes, paper) in case your phone doesn't work. You should also print out the address of where you're staying (helpful if you need to fill out an arrival card on the plane) as well as instructions on how to get to your lodging, whether that's by taxi, shuttle, or public transportation.
Cash
You won't know what the ATM situation will be like at your destination until you get there. It doesn't hurt to have some starter cash in the local currency upon arrival, in case you need it for taxis or food before heading to your lodging. Plus, you'll likely get a better rate from your bank than if you convert at an airport currency exchange counter. Even if you're traveling domestically, this is a good tip; the last thing you want is to be in a cash-only taxi empty-handed.
Makeup and Other Toiletries
Having your tried-and-true toiletries and beauty products on hand, like toothpaste, dry shampoo, deodorant, and your favorite makeup, will help you look and feel good when you're prepping for the wedding (and the rest of your trip). Pack a bottle of nail polish in your current manicure color so chips don't get you down. And don't forget SPF! Tip: Before you pack it, test your sunscreen for flashback—that white cast some sunscreens cause when light bounces off of them—by taking a photo of yourself with flash.
An Emergency Kit
You want to feel your best at all times during your vacation, so preparation is key. Pack Advil and adhesive bandages for any dancing- or sightseeing-related blisters and pains; heartburn, allergy, plus any other medications you may need. A mini sewing kit (needle, thread, and safety pins) for last-minute wardrobe snafus can also come in handy.
Multifunctional Shoes
Wear your sneakers on the plane and make those your main shoes for exploring the sights. If you're packing sandals, look for wedges, block heels, or a dressier flat pair that you can wear both on casual excursions and to wedding events.
Versatile Wardrobe
As with your shoes, choose outfits you can dress up or down, and keep to one color palette so you can mix and match. Opt for midi or maxi dresses and skirts, and look for fabrics that feel festive, like metallics, lace, chiffon, and satin. And don't rule out jumpsuits, which can be both sleek and comfortable.
Accessories that Go with Everything
Pack minimalistic jewelry that matches every outfit, as well as a statement necklace or earrings that can take your look from everyday to evening wear. Bag wise, a crossbody in a neutral color that goes with everything, plus a backpack for day trips and excursions (tip: pack the crossbody in your backpack so you can carry both on) are all you need. And lastly, bring a wrap that goes with your wedding outfit. Not only will it keep you warm during any evening events, but you can use it throughout the trip and on the plane.