Beauty
Cactus water is about to take over the skin care aisle

+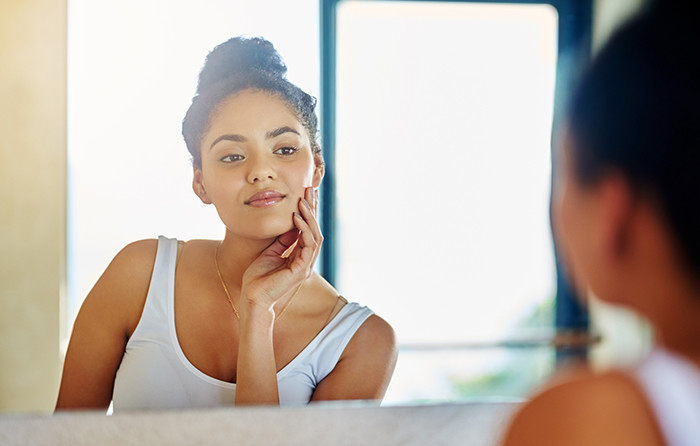 You may have noticed that the skin care industry has taken a liking to cactus water lately. More and more often, it's a featured ingredient in sheet masks, moisturizers, cleansing waters, and facial oils, so you might be wondering what the deal is. If you're asking yourself why cactus water has been creeping into the skin care aisle, you've come to the right place.
So what does cactus water even do for you? It "lubricates the skin, hydrates it, and rejuvenates it," says Dr. Parvaneh Rafaeloff, owner and medical director of Le Jolie Medi Spa in Los Angeles, explaining that cactus water "gives glow to the skin."
"It not only helps draw in a little bit of water, but it also helps rebuild the skin barrier," says Dr. Rachel Nazarian of Mount Sinai Department of Dermatology and Schweiger Dermatology Group in New York, which in turn helps your skin hold onto moisture. If you have sensitive skin or skin that is prone to inflammation, you might be especially interested in cactus water, which is unlikely to irritate skin and may actually calm it, she explains.
It also contains betalains, she says. Betalains, a type of super-antioxidant, are what Dr. Nazarian says are the "hero ingredient" of cactus water, because they can neutralize the effects of oxidative stress, more commonly known as skin aging. Specifically, she explains, betalains may help neutralize things like the destruction of collagen and elastin, which is what leads to effects like wrinkles. (Note: This does not mean you can skip sunscreen when you're exercising or hanging outside!)
Doctors Nazarian and Rafaeloff both suggest opting for a facial oil containing cactus water if you're planning on trying the buzzy ingredient. "If you can get it in an oil form, cactus water actually does a really good job because it's high in fatty acid," Dr. Nazarian says. Dr. Rafaeloff also recommends looking for products that use organic cactus water, and products that contain prickly pear cactus in particular.
And if you can't get enough cactus water, both doctors say you can also drink it to provide your whole body with hydration; try packing it on your next hike or trip to HIIT class. Just look for it near the coconut water, and choose a product without added sugars.