Fitness
The right clothes for every workout

+

You should tailor your outfits to your workout.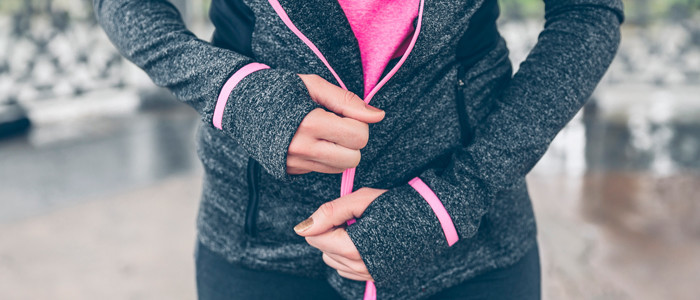 No matter whether you're heading to barre, HIIT, or going for a run, your favorite pants with the neon stripes are perfect, right? Not necessarily. As fun as fitness style can be, when you're actually working out, you want to prioritize function over fashion. Case in point: That strappy sports bra is going to feel a lot less cute in a high-intensity interval class, when your boobs are hitting your chin, than it will in a slow-burning Pilates class where it's all about tiny movements. And because workout clothes aren't always cheap, you want to be strategic about what you buy. Here's what fitness instructors and personal trainers recommend based on your favorite workout classes.
HIIT
High-intensity interval training is a guaranteed way to get sweaty (there's a reason "intensity" is in the name). "Your HIIT workout is the time to whip out that mesh tank top," says Caleb Backe, a certified personal trainer and a health and wellness expert for Maple Holistics. "Wear breathable, baggy fabrics that won't cling to your skin—you don't want to feel like you're in a choke-hold on your body when you're already struggling for air."
You're also going to want a high-impact bra, says Dr. Farrah Hauke, a certified group fitness instructor and licensed psychologist in Scottsdale, AZ. Your breasts need proper support for high-intensity movements like jumping and bouncing. Footwear-wise, she recommends sneakers that have both good traction and cushioned support.
Yoga
When you're bending and stretching, you want to wear comfortable, form-fitting clothing—no sweats or baggy tees, says Anna Castle, a yoga and Pilates instructor and the owner of Yoga Castle in Manhattan, IL. "A good group instructor should be paying attention to their students so they don't injure themselves with improper form or alignment, so it's important that the instructor can see that you're not overextending your knees or that you have proper alignment of shoulders, spine, rib cage, and pelvic region. Plus, it's a distraction to be constantly fidgeting with your clothes," she explains. "If it's hot yoga, make sure to choose a wicking fabric that draws moisture away from the body."
Pilates
Like in yoga, you want to wear something that moves with your body and allows you to check your form. "I'd recommend wearing full length leggings and a well-fitted tank top," says Rachel Piskin, co-founder of ChaiseFitness. "Since you're often doing exercises on your knees, you want to be sure the fabric of leggings isn't made out of too slippery of fabric, so you feel stable and confident when performing your Pilates exercises." Since Pilates is a low-impact workout, don't worry too much about bra support—just go for comfort and softness, she says.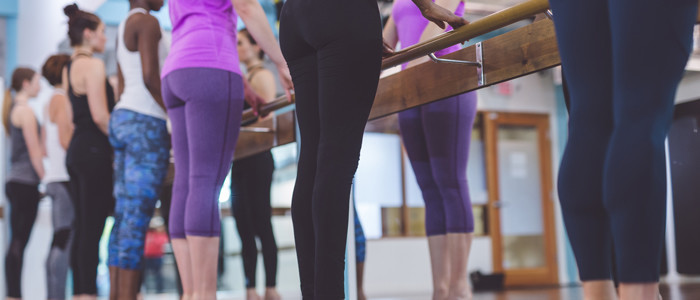 Barre
Barre is another workout where you want to be able to clearly see your body in the mirror—so no baggy clothes. "Pick a top that has comfortable straps that stay in place, since this type of workout involves many variations of arm movements," Piskin says. "Avoid tops that might slide off your shoulder or tops that you will be having to adjust. You want to keep your arms lifted and moving to get the ultimate barre results." Another thing you might not think about? "I'd recommend tying your hair up so you can see your neck and shoulders to properly work on posture throughout class," she adds. There's a reason ballerinas wear buns!
Strength Training
Like in yoga, "tighter tops are better for a strength classes, so the instructor can check your form," says Sarah de Jong, a personal trainer and trainer at Sweat Fitness Studios in Chicago, IL. "And leggings with sweat-wicking fabric and compression technology, which usually make you feel like you're more 'sucked in' than other leggings, give you more support while you're doing drills." When it comes to your shoes, you can't just grab your running sneakers. When you're lifting with heavier weights, like with deadlifts or squats, de Jong recommends wearing a flatter sneaker to stay grounded. If you do both strength and HIIT workouts, "look for cross-training shoes, which give you the best of both worlds if you're switching from lifts to high-intensity jumping, running, and agility drills."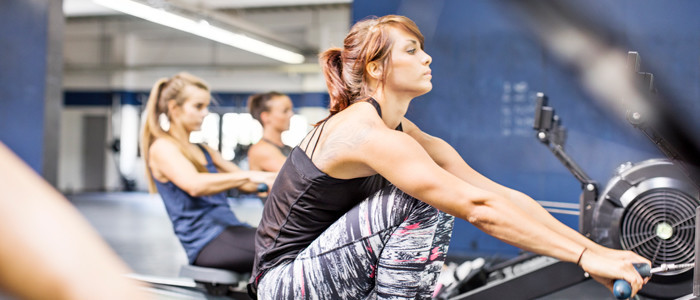 Rowing
Go ahead, wear that super cute sports bra: "You don't have to worry about the impact that running causes, so any comfortable sports bra works!" says Caley Crawford, director of education at Row House. Otherwise, "it's really important that you don't wear a top that's too long, or shorts or pants that are too loose, because they can get caught in the wheel under the seat," she says. Crawford recommends leggings or spandex shorts in a breathable fabric—"because you will be sweating A LOT."
Indoor Cycling
There's nothing worse than your leggings or shorts riding down while you're spinning, so high-waisted leggings are your best friend. "It's a must to have snug, fitted workout tights to avoid any type of friction rash," says Tevia Celli, director of education at CycleBar. FYI: High-waisted pants also support your center and act as a subtle reminder that you should be engaging your core as you ride. "Sports bras should be supportive for the intervals and choreography that happen in an indoor cycling class, and I prefer a lightweight, breathable top over my sports bra—thicker tops tend to absorb sweat!" she adds.