Nutrition
5 tips for finding a therapist you can afford

+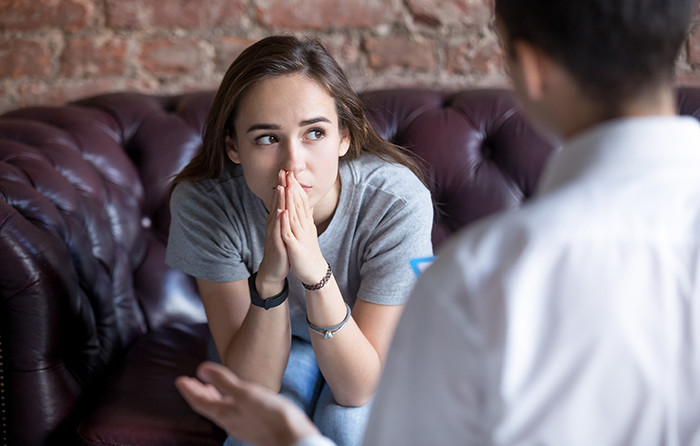 It takes a lot to get to the point where you can say to yourself, "I could...probably benefit from going to therapy." Though the stigma around psychotherapy isn't what it used to be, people can still find it difficult to acknowledge that they want to take better care of their mental health.
Deciding to go to therapy can already be a tough hurdle to clear, but it's not the only one. Finding a therapist—one you like, whose services you can afford—comes next. It's not an easy task, especially if you're in the middle of a full-blown crisis or if you're strapped for cash.
Of course, when you've decided you want therapy, what you don't need is more stress in your life. If you're facing a deficit of energy, bandwidth, or money, use these tips to get the care you need.
Talk to your insurance provider
If you have insurance, give the customer service line a call and find out what specific mental health benefits your plan covers. Ask what your copay would cost if you see someone in-network, and how much they cover if you go to someone who's out of network. While you're on the call with your insurance, ask them to send you a list of in-network providers so you can easily reference them in one place. If you have an employer, you can check to see if the company has an employee assistance program (EAP). EAPs offer mental health counseling at no additional cost to you.
Have an open discussion with your prospective therapist
When you're first calling around, you may find that your in-network options are more limited than you want them to be. For instance, it's possible that the provider you're interested in isn't accepting new patients. You may have trouble finding someone who appears to be the right fit for you. Or you might have your heart set on seeing someone who is out of network—and who charges way more than what you can afford. Even if you run into these snags, don't give up. Talk to the therapist you want to see; they may be able to accommodate you. Ask if they offer a reduced fee for cash payments or if they operate on a sliding scale, which means they charge differently based on income (you can search Thero.org for providers that offer that option).
Go digital
Another more affordable option is teletherapy, which can cost less than traditional IRL treatment. You can also use a therapy app to connect with licensed therapists. For a fee that's usually cheaper than private in-person treatment, you can message, call, or video chat with a professional (here's some guidance on how to find an app that's right for you). If what you need is more basic—say, someone to listen to you while you get something off your chest—try a warm line, where a peer can offer support in non-emergencies.
Try group therapy
Being vulnerable in front of one person is hard enough, but a group? Sure, okay. It sounds terrifying. However, group therapy can be a very helpful, effective, and budget-friendly option. Meetings usually happen once a week for an hour or two at a time. Therapy groups can address a variety of needs, such as social anxiety or bereavement and coping with grief. Whatever the specific type of group, they can offer a support system and a way for people to not feel as alone.
Look to your community
You can search for federally funded health centers in your area, ask a nearby college or university if their mental health facilities are open to the public, or try a hospital or place of worship to see what kind of counseling services are on offer.