The FDA updates fish rules for pregnant women, apparently it's controversial though
Eating raw fish when you're pregnant is a no-no — we've all heard that advice before. But how much fish is safe to eat when you're pregnant? And which varieties provide the most omega-3 fatty acids and contain the lowest levels of mercury?
To help answer those questions, the FDA very recently updated its guidelines on how much fish is safe to eat when you're expecting, which should in theory help clear things up for moms-to-be. But instead, the recommendations are proving more controversial than beneficial.
The new guidelines group fish by species into "best choices," "good choices," and "fish to avoid." The FDA says it's safe for pregnant women, women of childbearing age (16-49 years old), breastfeeding women, and parents/caregivers to eat two to three 4-ounce servings per week of the "best choice" fish, and one 4-ounce serving per week of the "good choice" species.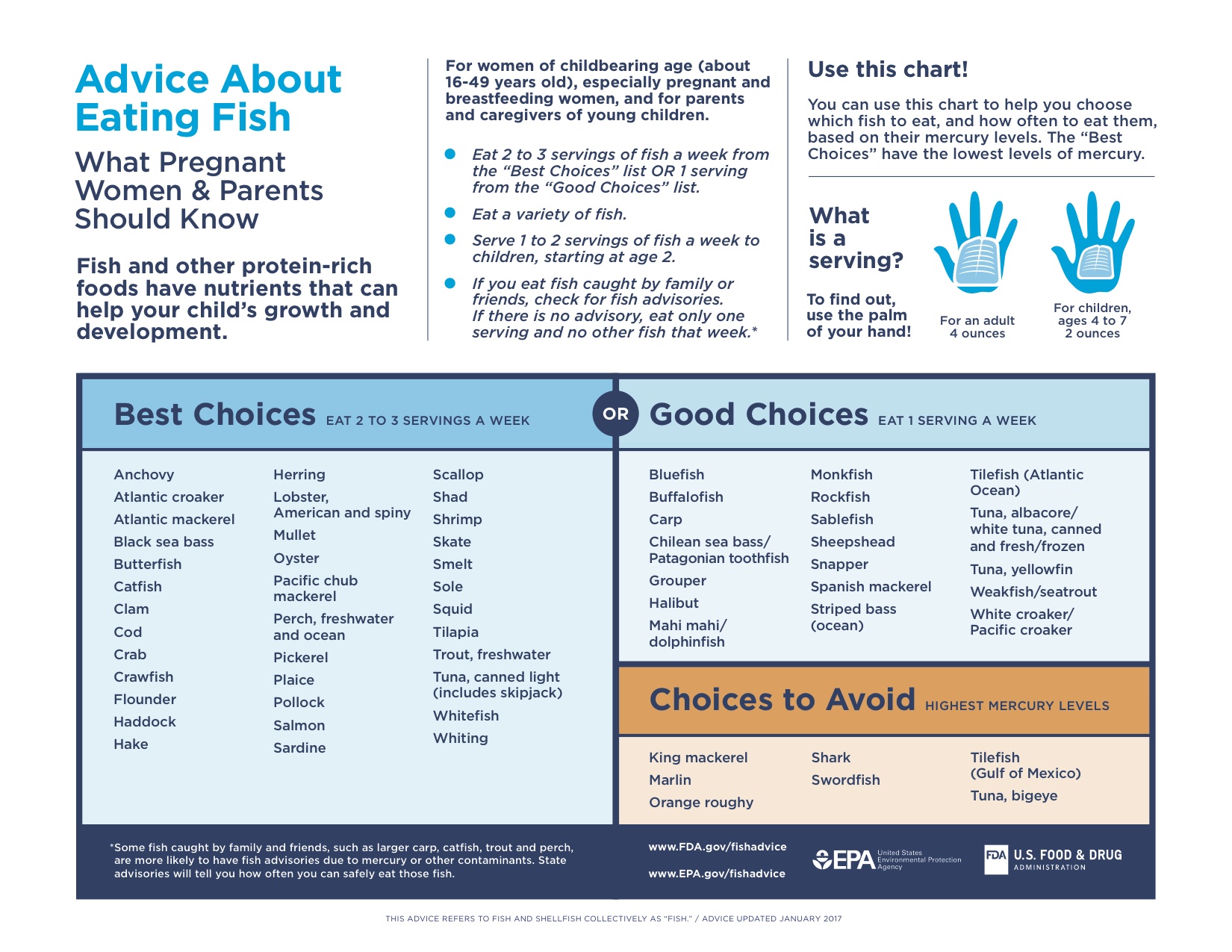 Seems pretty straight-forward so far, right? Well, some experts say the guidelines will create more confusion than clarity, and criticize the FDA for ignoring its own research. (It's worth noting that these guidelines were released before Donald Trump's inauguration and his clampdown on information sharing by the federal agency.)
Dr. Tom Brenna, a human nutrition professor at Cornell University, said in an interview with NPR that the guidelines ignore a 2014 FDA report that found eating 61 ounces of halibut a week per week (equivalent to 15 4-ounce servings) would be safe; according to the new guidelines, halibut should only be eaten once per week.
"They're completely ignoring their own [2014] report," he said. "They've ignored the nutrition science and at best, they're ranking the amount of mercury."
He also says the inclusion of different tuna species under different rankings could be confusing to consumers who aren't familiar with the different varieties.
"People won't see there's a difference between the types of tuna, they'll only see that tuna is on the list," Brenna said.
Consumer Reports, while mostly in favor of the change, suggests women do things a bit differently.
"Eating from FDA's 'good choices' list, one 4-ounce serving would be all the fish women of childbearing age, pregnant women, and young children could have that week and stay within the mercury limit," said Jean Halloran, director of food policy initiatives for Consumers Union, the policy and mobilization arm of Consumer Reports. "Since eating fish a couple times a week has many benefits, it would seem this is not a good group to choose from."
Instead, the group offers these alternate guidelines: Consumer Reports' "lowest-mercury" fish list includes oysters, salmon (wild and Alaska, canned or fresh), sardines, scallops, shrimp, squid, and tilapia, and the group says a 132-pound woman can safely eat up to 36 ounces per week. On its "low-mercury" list are Atlantic croaker, Atlantic mackerel, catfish, crab, crawfish, flatfish (flounder and sole), haddock, mullet, pollack, and trout, of which a 132-pound woman could safely eat 18 ounces per week. You can read more about Consumer Reports' approach here.
And mercury isn't the only concern: Hormone-disrupting PCBs can accumulate in fish's fatty tissue, and end up causing health problems in humans. And depending on where in the country or world your fish was caught and raised, mercury and PCB levels can vary wildly.
As far as the FDA is concerned, the agency says it took a "cautious and highly protective approach" when creating this list. And while we think it's useful, it's worth doing your own research and forming your own opinions — as with all things.