The FBI has cleared Hillary Clinton again after finding no evidence of criminal wrongdoing with her emails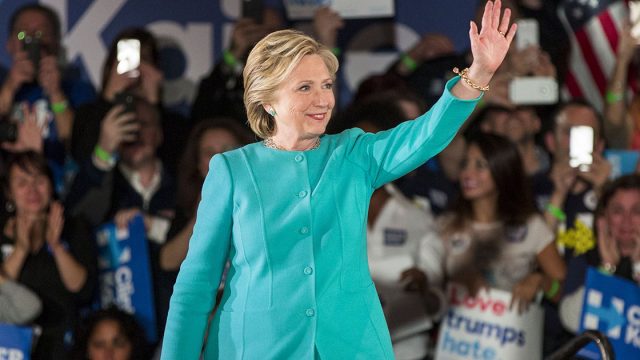 The FBI yesterday (November 6th) announced that it has not changed its conclusion that Hillary Clinton should not face criminal charges over the use of a private email server.
Writing a letter to Congress, which was obtained by CNN's Jim Acosta, the FBI director, James Comey, told how the agency had concluded it's review into new emails discovered on the computer of Anthony Weiner.
The FBI previously concluded their investigations into Hillary Clinton's use of a private email server in July. However, writing to Congress at the end of October, Comey said that after discovering new emails sent to Clinton aide, Huma Abedin (the estranged wife of Weiner), the FBI would be launching a review of the newly discovered correspondences.
"The FBI investigative team has been working around the clock to process and review a large volume of emails from a device obtained in connection with an unrelated criminal investigation," wrote Comey. "'During that process, we reviewed all of the communications that were to or from Hillary Clinton while she was secretary of state.
Contining, Comey said that nothing had changed since decision that was reached in July.
"Based on our review, we have not changed our conclusions that we expressed in July with respect to Secretary Clinton," wrote Comey. "I am very grateful to the professionals at the FBI for doing an extraordinary amount of high-quality work in a short period of time.
As CNN reports, it appears that many of the 650,000 new emails found were duplicates of those already investigated.
Taking to Twitter, Hillary Clinton's press secretary, Brian Fallon, expressed his reassurance at the news.
"We are glad to see that [Comey] has found, as we were confident he would, that he has confirmed the conclusions that he reached in July and we are glad that this matter is resolved," spokeswoman Jennifer Palmieri told reporters.
Speaking at a campaign rally in Sterling Heights, Michigan, Republican presidential candidate, Donald Trump, dismissed the FBI's ruling.
The buisness man and reality TV star questioned the legitimacy of the investigation.
"You can't review 650,000 emails in eight days," Trump told the crowd. "Right now she's being protected by a rigged system. It's a totally rigged system. I've been saying it for a long time," he continued. "Hillary Clinton is guilty, she knows it, the FBI knows it, the people know it and now it's up to the American people to deliver justice at the ballot box on November 8th."
false
Expanding on this, Trump's campaign manager, Kellyanne Conway, also dismissed the claims to MSNBC. 
"Some things haven't changed at all. What FBI director Comey said on 7 July under oath to Congress is still the same: That she was reckless and careless in her handling of information," she said. "The reason that so many Americans have a problem with Hillary Clinton's honesty and trustworthiness and veracity does not change."
The decision of the FBI's James Comey to launch an investigation so close to the election was criticized by some for it's potentially prejudicial nature.
Speaking last night about Comey's letter, Adam Schiff, the top Democrat on the House intelligence committee said that he hoped the new information put an end to the accusations about Clinton having commited a crime.
"While the original letter should never have been sent so close to an election, the expeditious review of these emails should put to rest the irresponsible speculation indulged in by the Trump campaign and others," he said.
At the time of writing, Hillary Clinton is currently leading in the polls over Donald Trump with 45.3% of the vote. The election takes place tomorrow, Tuesday, November 8th.