Your favorite Spice Girls music video just got a feminist makeover
If you wanna be my lover, you've gotta be down with my feminism. Okay, so it doesn't quite roll of the tongue as easily as the real lyrics, but we're totally down with the idea of giving our fave Spice Girls video, "Wannabe," a feminist makeover — and that's exactly what Project Everyone did this morning in a brand new video.
The video was released as part of UN's Global Goals campaign, which includes goals of fighting climate change, increasing equality between genders, and eradicating poverty and injustice. The new video has the same lyrics as the song we've loved all these years, but the message is just a bit deeper.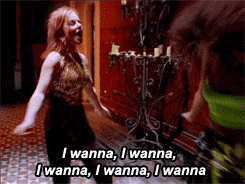 In the beginning, we're asked, "What do you really want?" and behind the dancers singing "So tell me what you want, what you really really want!" we see signs that say things like, "End violence against girls," "Quality education for all girls," and "Equal pay for equal work."
The dancers are outfitted in '90s gear, like halter tops, fanny packs, and double buns (think Baby Spice), and their moves rival the original Spice Girls at their best. It's a really great video, with a great message. The website for Global Goals invites viewers to use the #WhatIReallyReallyWant hashtag and share a photo of yourself and what you really want for girls and women, and we think that's a great idea.
Watch the full video below: