Your favorite notebook brand is now a… café?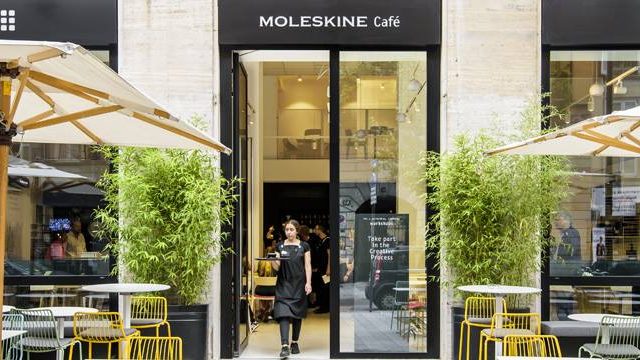 For those of us who keep notebooks and journals and the like, you'll know that your choice of writing repository matters. And for many of us, that goes hand-in-hand with Moleskine, the cult notebook company whose simple designs and on-point collaborations have literally provided space for our thoughts for years. And now, the little notebook that could has become a global empire that includes an adorable Italian café, and yes we mean Italian as in in Italy.
The first ever Moleskine Café has opened its doors in Milan's Brera Design District, and as you could've expected, it's a feat of design gorgeousness. Stocked with a working area, a gallery, and of course, a retail space to sell notebooks, Moleskine's new space is the perfect place to put together a draft under deadline; to be focused in an ambiance inviting for creative writing and thinking; hell, even just to grab a coffee and proofread some of the writing you've done. (Perhaps, in a Moleskine.)
Because Moleskine knows what really powers writers, they've stocked their café up with coffee, sandwiches, soups, salads, and full breakfast and brunch spreads. It's easy to imagine spending a day in such an idyllic environment, and for lucky Milanese Moleskine fanatics, they can indulge and we can all live vicariously through the #moleskinecafe tag. Except: The company has plans to open more cafés around the world in the future, so we can all indulge in the cult of simplicity (and caffeinated writing).