Why your fave emojis might mean something different to everyone else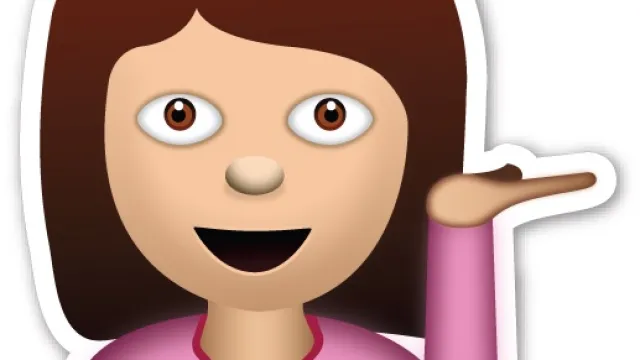 In this day and age, it's not uncommon to have entire conversations entirely in emojis. But what if the emojis you're sending aren't the emojis you think you're sending? What if you try to send a Flamenco dancer emoji and your recipient receives an emoji of a break-dancer, BECAUSE it could happen.
Emojipedia lists all emojis, their definitions and how they are designed differently across platforms. Your fave emoji might not appear the same as it does for you if your recipient has a different phone than you do.
The Information Desk Person (But you probably call it, "Sassy Girl")

You know this emoji. It's the one you send accompanying a text like, "Blew off my Tinder date. Sorry, not sorry."
Well, this emoji is actually the "information desk person" icon and it's meant to be a girl showing you the way or a waitress holding out a tray. Imagine sending this emoji to someone with an Android and they receive that weird bell-hop looking blob?
Face Massage (But you probably call it, "girl getting a haircut")

Ok, tbh, we have no idea what this one ever WAS supposed to be. We just assumed it was somebody getting their hair done?
Apparently it's the "face massage" emoji, because you know, we're ALL getting face massages all the time like that's a thing. The Samsung version does a waaaaayyy better job illuminating the massage aspect.
Grinning Face With Smiling Eyes (But you probably call it "gritting teeth face")

This is everyone's favorite emoji. It can be used to describe anything BAD.
However, it's not actually an image of chattering teeth, it's actually a GRINNING FACE with, wait for it, SMILING EYES. What?! So, when we text this to someone with the words, "Oh shit, I just got picked for jury duty," your friend with an HTC phone might totally think you're happy about it.
Dancer Emoji

This emoji actually lives up to its name! But wait, what is that Samsung version!? That is a freestyle hip-hop dancer, perhaps even a BREAK DANCER and not a Flamenco dancer! How crazy if you send someone the Flamenco text with the words, "This is what I'm wearing to the club tonight!" and then your friend with a Samsung is like, "You're wearing a red tank over a white tee?" NOPE.
Flushed Face Emoji (But you probably call it, "the emoji you send when someone sends you a nude photo")

You're texting someone you met online and BAM, without asking for it, they send you a nude photo. If you're bold, you call 'em out. If you're polite, you hit them with this emoji. The bashful/shy/shocked/whatever face.
Turns out this is a "flushed face" emoji and if you send this to someone with an LG or a Samsung phone, it looks more like a "clinically depressed" or "really despondent" emoji.
Prepare to have your minds blow. Check out the rest of the list and happy texting.