Your fatphobia won't make me dress any less provocatively this summer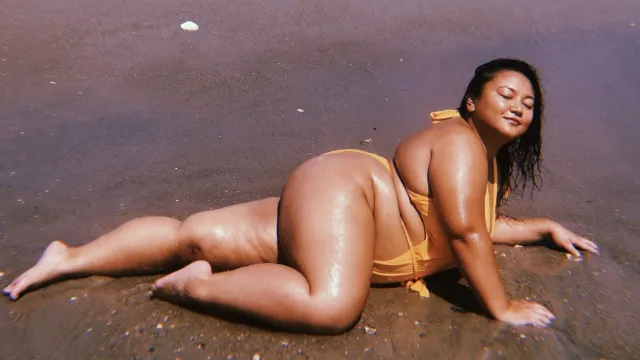 My Tinder profile is stacked with provocative selfies and the bio reads, "Half-naked on 'the gram, athleisure IRL." Every part of my online presence—raunchy selfies, decadent food, Cheetos in the bath, leftist hot takes—is curated to give off an intelligent, ultra-confident Thick Girl vibe, but behind every Thirst Trap Extraordinaire is a gut-wrenching ugly duckling story. 
Here's mine: When I was growing up, both in the Philippines and in various cities in the United States, I was always told to cover my body. If a neckline dared to allude to cleavage, I would pull my shirt to my neck. If a cute sleeveless top caught my eye at Delia's, I'd kill that curiosity where it stood because I couldn't fathom baring my flabby arms out in the open for the world to see and ridicule. Fat bodies are automatically seen as provocative, and we are policed when we show up in the same revealing outfit that makes our skinny friends feel confident.
I mentally swiped left on miniskirts because I didn't want anyone to see my "chub rub"—the darkened, often painful patches of skin on the inside of your thighs that rub together uncomfortably when wearing skirts. Petite plus-size women also don't have a ton of options for comfortable jeans or slacks with the right crotch length, so the chances for chub rub injuries are even higher. And these are just the selects from a longer list of microaggressions that subconsciously instruct fat women to hide their bodies.
While shopping for my senior prom dress at a department store, a then-innocent, 17-year-old Beatriz fell head-over-heels in love with a black, straight-cut, strapless tube dress with rhinestones at the center front neckline. When I tried the dress on, I was impressed with the dress's minimal yet supportive structure and body-hugging properties, but I had to get the dress shortened to fit my 4'11" frame.
I begged my mom to let me buy the dress and get it tailored, despite it being expensive and more revealing than the clothes I was used to wearing. I stood on a wooden box in front of a three-panel mirror at the tailor's shop and took in every angle of this phenomenal look. I looked good as hell, but I felt sweat bubbling up under my arms as the seamstress took a step back to assess how much the dress needed to be shortened. I was anxious to hear what the seamstress thought was wrong with my body.
Finally, she broke her silence. "You have a really beautiful body.
I was genuinely shocked. At that point in my life, everyone I spent time with treated my body as if it was a problem that needed to be solved. I spent most of my life thinking that I was 40 pounds away from being beautiful, and here was this complete stranger telling me that she thought my body was beautiful. I realized right then and there, at that Midwestern tailor shop ran by a Vietnamese saint, that the emotional work of overcoming fatphobia is not always up to me.
The language around body positivity often puts responsibility solely on fat women to overcome our blatant exclusion from society's beauty standards. Fat women, especially fat women of color, sometimes don't have the resources to seek emotional and mental healing from these issues. Dodging online bullies and discovering a wellspring of self-love, as most plus-size influencers do, is simply not enough.
The plus-size community needs our allies to do the work. Collectively, we need to work toward examining the language we use to describe fat bodies and empathize with the ways that language has harmed us. It's up to our allies to deconstruct mainstream ideas of health and desirability to make safer spaces for us. Our allies need to check their friends and family when they make fatphobic jokes or assumptions.
Fat bodies are free to exist however they want. If my idea of a fire summer look is a neon lace bralette paired with a denim miniskirt, you better believe I'm going to wear it. Haters gon' hate, and truthfully, those haters need to look within to figure out why they have such a problem with my saggy tits or flabby arms on their own time.
To all the fat women and femmes reading this, don't let any of these lames stop you from wearing whatever the f*ck you want. Bring on the mesh dresses on top of swimwear for daytime, off-the-shoulder ruched bodycon dresses styled with a chunky sneaker, cleavage-baring tees, and, of course, short-shorts. If conservative looks are more your jam, bring on the mock-neck tees, below-the-knee skirts, and executive wardrobe realness. Summer 2019 is ours for the selfie-taking.