The father of one of the Florida shooting victims called Marco Rubio's stance on guns "pathetically weak"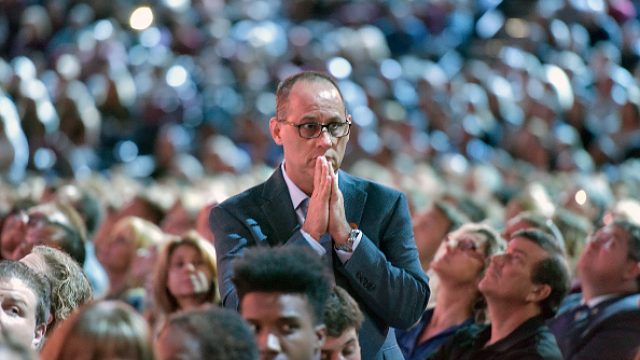 After the deadly school shooting in Parkland, Florida on February 14th, the students who survived have mobilized to speak out in favor of gun control. They've held protests, visited state legislators, and delivered powerful speeches. And last night, February 21st, at a televised town hall event organized by CNN, the victims' parents raised their voices, too. One victim's father, Fred Guttenberg, called out Senator Marco Rubio's comments in the wake of the shooting, calling them "pathetically weak."
Guttenberg's daughter Jaime was one of the 17 people killed in the Valentine's Day massacre. Guttenberg took the microphone to ridicule Rubio for his response to the tragedy, which included comments that gun control legislation won't prevent mass shootings.
"Your comments this week and those of our president have been pathetically weak," Guttenberg told Rubio, to thunderous applause. "You and I are now eye to eye. Because I want to like you, look at me and tell me that guns were the factor in the hunting of our kids in this school this week. And look at me and tell me you accept it and you will work with us to do something about guns."
https://www.youtube.com/watch?v=zXMzzA3TVYA?feature=oembed
Rubio sidestepped Guttenberg's questions at first, defending his previous comments, which was met with booing from the crowd. He continued by saying that the issue of mass shootings was too complex to be solved by stricter gun control laws alone. But Guttenberg again pressed the senator to say that guns were responsible for his daughter's death, and Rubio agreed that they were.
The Florida senator also said he supports setting an age limit for the purchase of guns, banning bump stocks, and changing the background check system. But he remained firm in refusal to support an assault weapons ban.
According to the New York Times, Rubio has received more than $3.3 million from the NRA throughout the duration of his political career. When one Parkland student asked him if he would stop accepting donations, he defended himself and avoided the question.
"People buy into my agenda, and I do support the Second Amendment" he said.
Rubio expressing support for any gun control measures is a step in the right direction, but we hope the senator will actually act on what he said. We've experienced so many mass shootings in this country that Guttenberg's frustration is understandable. We need to end gun violence now.