Revolve released an offensive, fat-shaming sweatshirt—and it involves Lena Dunham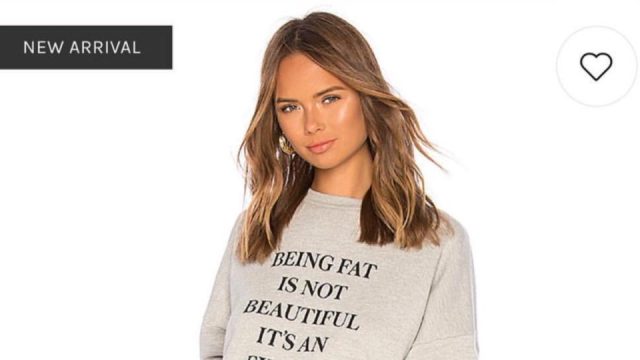 Earlier this week, clothing company Revolve dropped a sweatshirt that promoted a highly offensive message. The slogan printed on the front of the LPA-designed top reads, "Being fat is not beautiful, it's an excuse." (Really.)
Twitter acted fast. Many who saw the listing posted their disapproval, and model and body-positive activist Tess Holliday posted a screenshot of the sweatshirt—which was modeled by a thin, white woman—writing, "LOLLLLL @REVOLVE y'all are a mess." Many questioned how the sweatshirt was approved for sale in the first place.
https://twitter.com/udfredirect/status/1039903581426438145
It turns out that there is an explanation (albeit a questionable one).
The sweatshirt was designed by Pia Arrobio, who collaborated with actress and writer Lena Dunham, as well as Emily Ratajkowski, Cara Delevingne, Suki Waterhouse, and Paloma Elsesser, to create a line of slogan sweatshirts meant to bring attention to cyberbullying. Each sweatshirt was supposed to feature a hateful or negative comment that has actually been directed at each participating celebrity.
But with literally zero context, the piece just looked like an offensive disaster.
https://twitter.com/udfredirect/status/1039934211732328448
Both Dunham and LPA took to Instagram in response to the backlash in an attempt to clarify the campaign, and Dunham claimed Revolve marketed the sweatshirt without her input or consent. She concluded her comments with,
"As a result, I cannot support this collaboration or lend my name to it in any way. I am deeply disappointed in @revolve's handling of a sensitive topic and a collaboration rooted in reclaiming the words of internet trolls to celebrate the beauty in diversity and bodies and experiences that aren't the industry norm."
https://www.instagram.com/p/BnovvKPHn_X
Revolve released a statement to E! News on September 12th, which read: "The prematurely released images featured on Revolve.com was not only included without context of the overall campaign but regrettably featured one of the pieces on a model who's size was not reflective of the piece's commentary on body positivity. We at Revolve sincerely apologize to all those involved–particularly Lena, Emily, Cara, Suki and Paloma–our loyal customers, and the community as a whole for this error."
Ironically, many critics noted that Revolve doesn't even sell clothes above a size XL, so those who might have felt empowered by wearing the slogan likely wouldn't be able to purchase it in their size.
The clothing company now plans to donate $20,000 to "Girls Write Now," an organization that provides mentoring to underserved young women and helps them find their voices through the written word.
Apology aside, Revolve's ignorance surrounding their choice of model and limited size range remains a cause for concern, and makes it clear that the fashion industry still has a long way to go when it comes to true inclusivity.