"Fast and Furious" is dealing with some *major* family drama right now — and Tyrese blames The Rock
Wellfamily, you're going to want to sit down because we've got some very upsetting Fast and Furious news for you.
After months of public feuding — and one "candy ass" Instagram — it seems the tension in the Fast and Furious franchise has reached a stalemate, as Tyrese Gibson just announced that he wouldn't return for the ninth installment of the franchise as long as Dwayne "The Rock" Johnson was still set to be a part of it. A budding feud between the two first began after it was announced that the release date on the ninth installment would be pushed back due to production of a spinoff starring Johnson's Hobbs, which would also feature Jason Statham's character Shaw.
In a long caption — featuring a shot of Tyrese, Johnson, and Vin Diesel during happier times —Tyrese wrote that as long as Johnson was set to appear in the film, Roman Pierce would not.
"Hello world..........hello loyal fans and loved ones from OUR fast universe........ I'm sorry to announce that if [sic] Dewayne is in Fast9 there will no more Roman [sic] Peirce - You mess with family and my daughters survival I mess with yours......... close your eyes dude you're a 'Clown'...... #CandyAssBitchMade All my real one.... "Men on integrity... my real ones out here stand UP...... folks that GP to the gym and get big naturally #NoJuice #NoOJ spin off huh? Spin off these nuts selfish champ...... pause notice who's got his arms around my shoulder and who's standing alone - #OurChildrenMatter"
The post comes on the heels of another Instagram post by Tyrese, in which he claims that he's not "mad at The Rock," just frustrated that he felt Johnson went behind the rest of the Fast cast to secure a spinoff. He also revealed in the post that he's been struggling through a difficult and bitter custody battle with his ex-wife.
"And FYI I was never mad at The Rock - I was just mad that he was 'pitched' an idea privately and said yes to it without thinking of what I'm dealing with personally I'm almost broke paying legal fees and is doing what we committed to doing for the #FastFans and #FastFamily cause the fast is tradition."
It's certainly sad to see how public and bitter the feud between the formerly close Fast stars. In his Instagram post, Tyrese reveals he hasn't heard from Johnson throughout his custody battle. In a series of posts last month, Tyrese publicly called Johnson out due to his not responding to texts but remained adamant that their friendship would be shattered if the Baywatch star moved forward with his spinoff.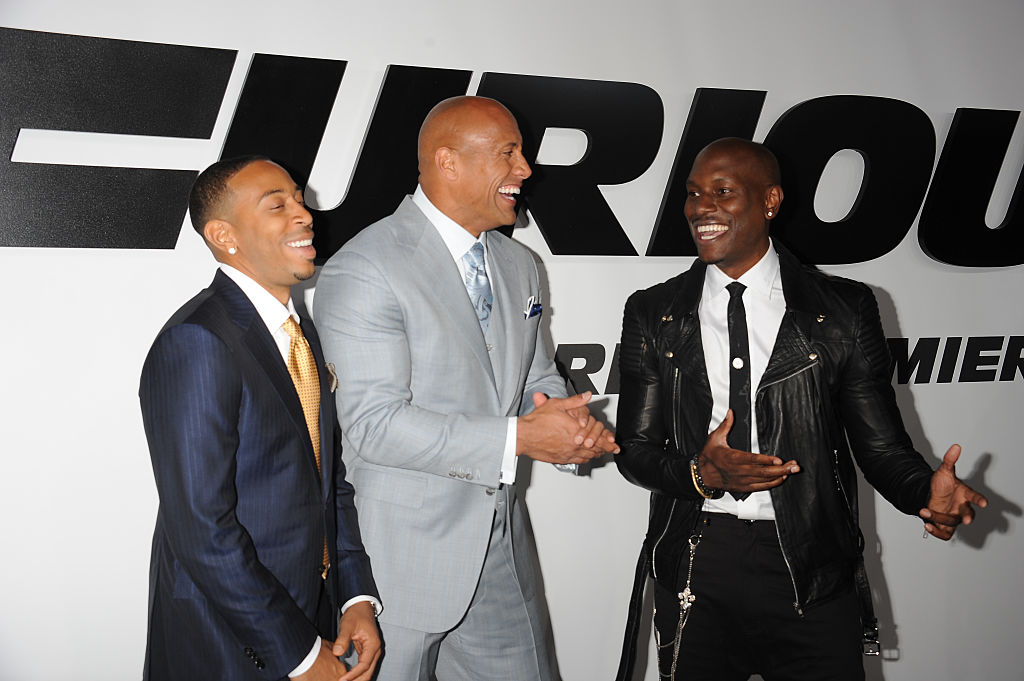 The feud between Johnson and Tyrese is not the first to plague the notoriously "family"-oriented cast. Tension between the Fast and the Furious cast became public in 2016 after Johnson took to Instagram to vent during the shooting of The Fate of The Furious, where he called an unnamed cast member out for on-set antics that did not sit right with him, citing a zero tolerance policy for "candy asses." It was later revealed that franchise lead Vin Diesel was the source of the rant. But the discord was strictly between Johnson and Diesel and it seemed the feud has mostly blown over — at least publicly — for the sake of the long-running franchise.
We're sending love to Tyrese and The Rock and are hoping the two can hash out their differences so we can see Hobbs and Roman — not to mention Tyrese and Johnson — on-screen again and the whole Fast family back together again.