These rainbow sneakers colorfully support the LGBTQ community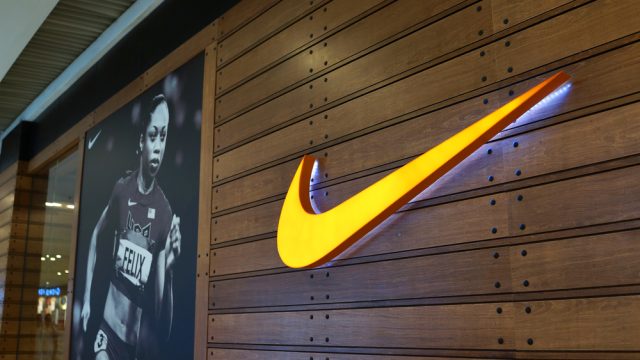 There are a lot of products out there that show you support certain causes, like pink hats for the Women's March. Now, these rainbow sneakers colorfully support the LGBTQ community, reported Teen Vogue, and we could NOT be more in love with them! They're from Nike's BETRUE collection, and you have four styles to choose from. Plus, there are also workout tops with inspiring messages, as well as rainbow-colored socks.
"The key for us was to create something that people could unite around to show their support for LGBTQ athletes," Nike LGBT Network leader Robert Gorman said in a company statement. "Sporting your rainbow in the gym or on a run became a way to feel like you belonged to something larger — you were connected to being 'out' or being an ally. The rainbow has and always will be incorporated into the BETRUE product in some way."
Okay, our hearts — and feet, of course — are doing a happy dance right now.
Here's a look at one of the shoe styles, the NikeLab Air VaporMax Flyknit BETRUE.
https://www.instagram.com/p/BUkc9DzhvhM
YAAAAS, please! And here's another one.
Fun fact: This is the Flyknit Racer BETRUE, and it has the first-ever rainbow Nike swoosh on the side.
Immm-pressive! And here's a sampling of some other BETRUE products.
In addition, the sock liners of the shoes have "RUN FIERCE" or "BEEN TRUE" printed on them.
ICYMI, btw, BETRUE was launched in 2012 as a small grassroots movement. It began among some of Nike's employees and grew from there. We. Love It. Also since that time, Nike has donated about $2.5 million to LGBTQ causes, according to the BETRUE launch page notes, reported Teen Vogue.
Nike also launched the EQUALITY initiative back in February of this year.
"Nike has a long history of speaking up for causes that reflect its values, stated Nike News at the time. "That continues today with the launch of EQUALITY, in which Nike encourages people to take the fairness and respect they see in sport and translate them off the field.
Okay, if you can't already tell, we're ~big~ fans of Nike's BETRUE brand, the new rainbow products, and everything they stand for. Does anyone else want to go shoe shopping with us right now?!