The new Lady Gaga Monster High doll has been revealed and it's something to BEHOLD
October definitely belongs to Lady Gaga (Gaga-tober? Mayyybe?). With her new and freakishly anticipated 5th album, Joanne, and the recent announcement that she'll be show-stealing performing in the 2017 Superbowl half-time show, all Mother Monster needs this month is a doll made in her likeness. Oh wait. That exists.
Thanks to the team at Mattel and Lady Gaga's own Born This Way Foundation, fans can take a mini-Gaga home this month. The Monster High doll, named Zomby Gaga, is inspired by a few looks drawn from Gaga's "Born This Way" video, featuring some hollowed-out cheekbones, a pale pastel ponytail, and the ultimate accessory to match her attitude: a big pink bubble-gum bubble just about to ARTPOP.
The doll has got that Gaga essence down cold, as it should, as it was styled by none other than the Lady's real-life sister, Natali!
(Now that's a fun gig.)
The doll's release happens alongside a donation from Mattel and the Monster High brand to the Born This Way Foundation, an organization built to "champion kindness, bravery and acceptance" in young people and adults alike. The collab promotes the #kindmonsters movement by inviting fans to the campaign's website to sign a pledge that begins:
"I pledge to build a kinder, more accepting and braver world.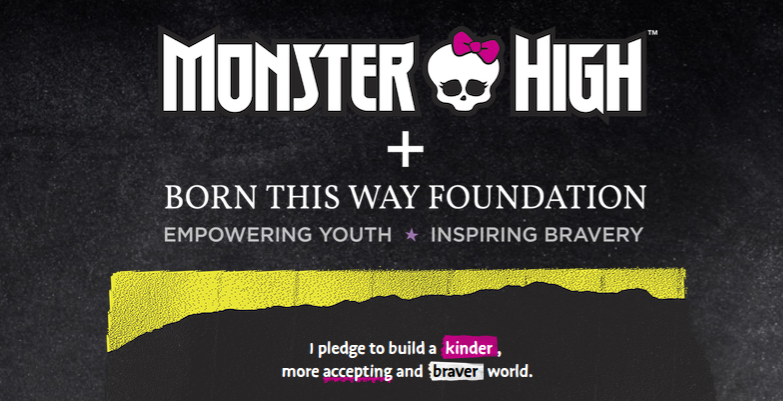 There is literally nothing cooler than what Lady Gaga's doing right now. Encouraging kindness, speaking out to a young generation about the importance of being who you are, and accepting of others trying to do the same. Then there's that new album, and uh, have you seen the alternate outfit for Zomby Gaga? It's a plaid-and-fishnet combo we're personally coveting. (Think we could find a matching one in a size 9?)
The doll will be available for pre-order starting Mon., October 17th at 9am EST at select retailers for $29.99 USD, according to the official product release.