Someone took the IKEA bag and made it into a thong, because creativity comes in all shapes and sizes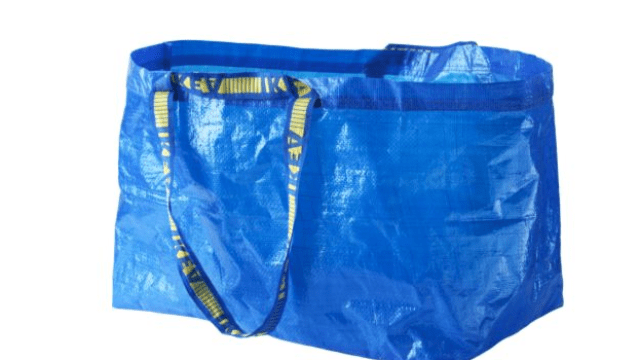 Reusable bags are great because they're… well… reusable. But someone took the greatness of reusable bags to an entirely new level, and we're here for it. One very creative person turned the IKEA FRAKTA bag into a thong, because hey, why not?
Signe Ralkov is the creative mind behind the IKEA thong. She doesn't just have a creative mind, she's also obviously really good with scissors. Even though the thong doesn't look entirely comfortable (not trying to start a debate, but are any thongs comfortable?), it seems like a fun project. Because when you have a plethora of reusable bags lying around — specifically ginormous ones like the IKEA bag — you might as well come up with something exciting to do with them. You know, other than bring home delicious snacks from the grocery store.
Ralkov posted her creation to Instagram, and it has garnered a lot of attention (which isn't at all surprising TBH).
The caption reads, "BALENCIAGA x IKEA limited hoax thong."
So clearly the thong is a hoax and not meant to actually be worn, but like, it could definitely be functional if it needed to be.
Creating fashion out of IKEA FRAKTA bags is a thing, and people are making all sorts of items like crop tops, boots, purses, and masks.
The Balenciaga-inspired thong caught the attention of IKEA and they were super impressed.
"We are extremely flattered to seemingly be an inspiration for the latest catwalk designs," Stella Monteiro, IKEA Sales Leader for UK and Ireland told Huffington Post UK. "Our IKEA FRAKTA tote is one of our most iconic products which are already owned and loved by millions.
So if you're in need of a new super uncomfortable thong, you know what to do.