How to get Emma Stone's la-la-lovely style from "La La Land"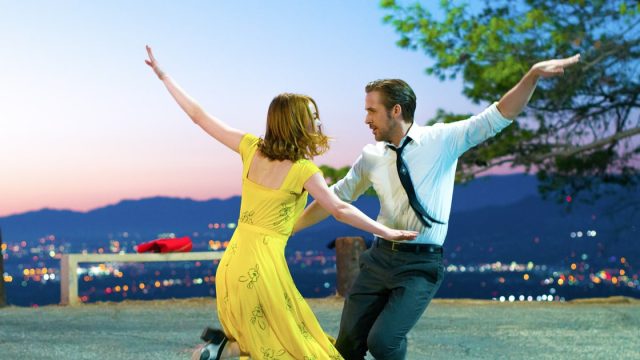 The music, the lead actors, the dialogue: Everything about La La Land is swoonworthy — from the opening shot to its grand finale.
But one of the most beautiful things about La La Land is the clothing worn by Emma Stone's ingenue character, Mia. Her retro style screams "classic Old Hollywood glamour" in the most youthful, simple way possible.
The film, La La Land, tells the story of an aspiring actress, Mia (Stone), and a stubborn jazz musician, Sebastian (Ryan Gosling) as they fall in love and make their way through the ups and downs of being an artist in Los Angeles. It is a nostalgic, timeless work of art infused with the long-lost energy of old-fashioned musicals.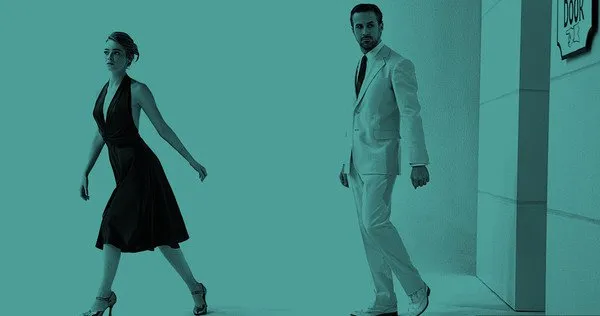 The costume designer for La La Land, Mary Zophres, has worked on many iconic films, from The Big Lebowski and Fargo to True Grit and Interstellar. Zophres was also responsible for the to-die-for vintage '40s attire that Gosling and Stone wore in Gangster Squad. For Mia's wardrobe, inspiration came from legendary stars like Julie Christie, Ingrid Bergman, Grace Kelly, and Katharine Hepburn.
The entire movie is filled with bright, glorious colors that make you green with envy. Of course, none of us are strangers to Stone-inspired style envy.
While most of the film's wardrobe is one-of-a-kind, here are some similar pieces you can snag to recreate the dreamy looks of La La Land.
Mia's yellow dress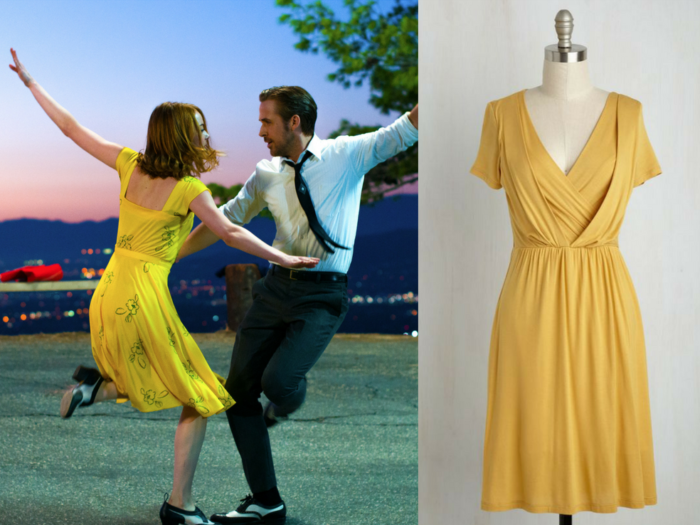 One of Mia's most iconic looks is this yellow dress from the movie poster. It was designed by the film's costume designer, Mary Zophres, but you can find this similar dress on Modcloth for $59.99. If you want something with a small print, Topshop and Modcloth have great alternatives as well. For this dress, Zophres took inspiration from Matisse paintings and a yellow gown worn by Stone to premiere of The Amazing Spider-Man 2.
Similar shoes to Mia's dancing brogues can be found at Modcloth or Overstock.
Mia's coral shirtdress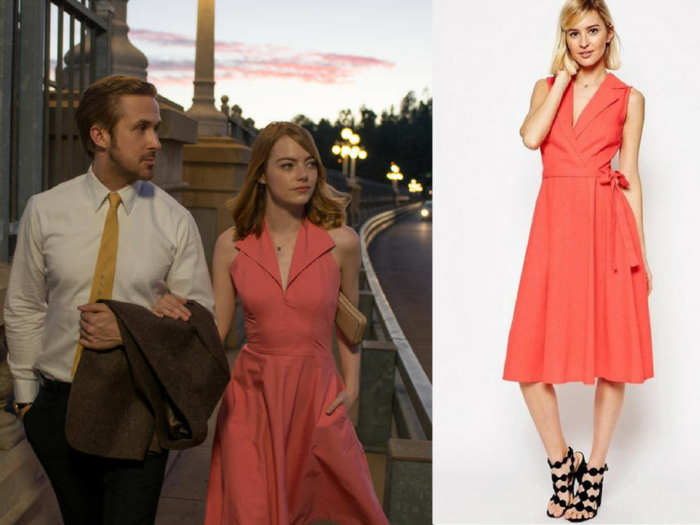 Every vintage-loving girl has a perfect shirtdress (or two or three), Mia included. This sweet coral number similar to hers can be found at Asos for less than $50 — how spectacular is that?
Mia's vibrant wardrobe was a very purposeful choice. When talking about the color palette for the film in an interview with Fashionista, Zophres said:
"Hopefully [the use of color] evokes some kind of emotion that lands in the subconscious or conscious."
Mia's emerald dress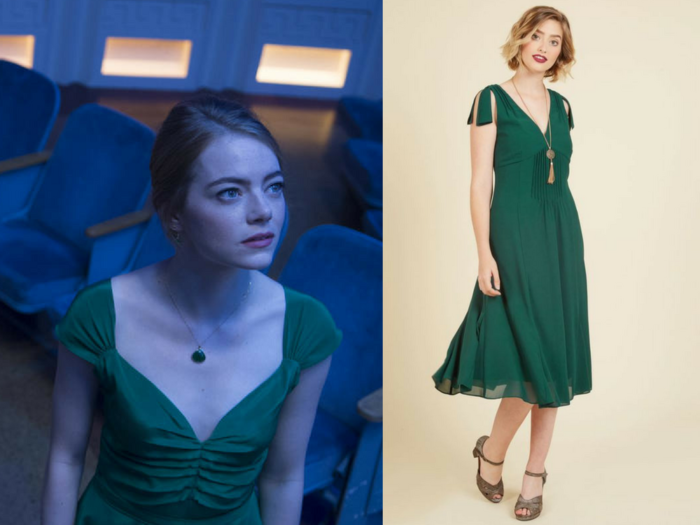 This beautiful emerald dress is a standout from the film, and part of an especially dreamy dance sequence. The above Modcloth dress is a pretty close match, but a little pricey ($125). You can get a dress at Mango for a lower price ($70), but it's a less similar style. This look was inspired by an outfit worn by Judy Garland in the 1954 film A Star is Born. The color looks amazing with Stone's fair skin and red hair — it's no wonder Sebastian can't keep his eyes off Mia in this scene.
Mia's blue dress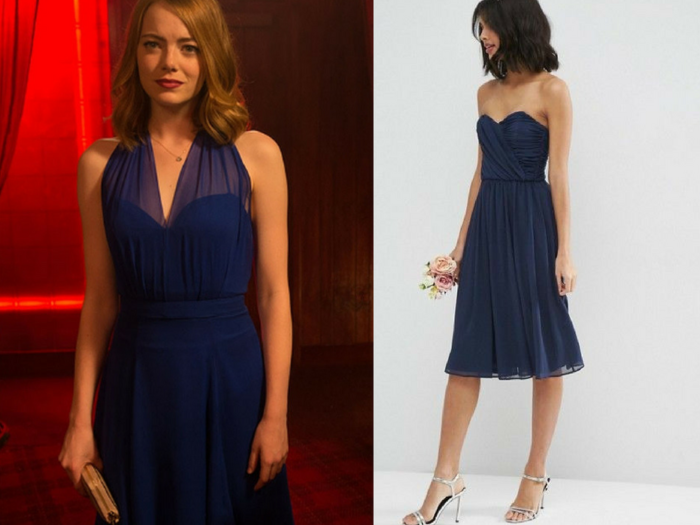 Mia's blue dress is another custom design by Zophres, but this swingy strapless Asos dress comes pretty close for $42.50. You can even get a little tulle or mesh, and DIY the halter.
Mia's LBD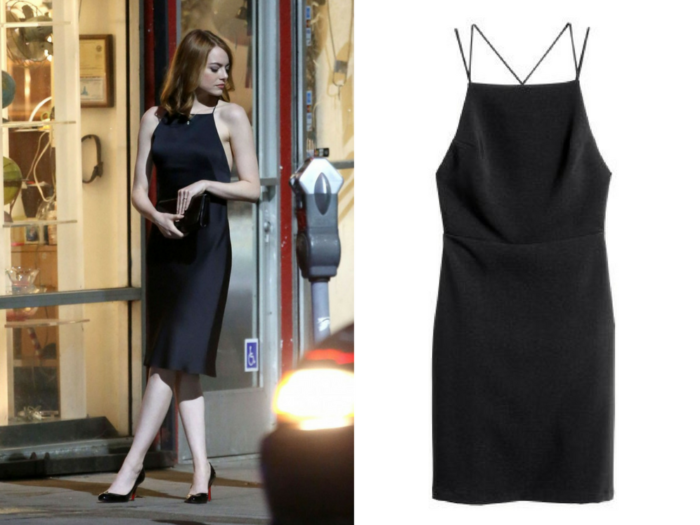 Mia's style seamlessly blends retro and modern trends. At $30, this sexy H&M dress is almost an exact replica of the dress worn in the movie, just a little bit shorter.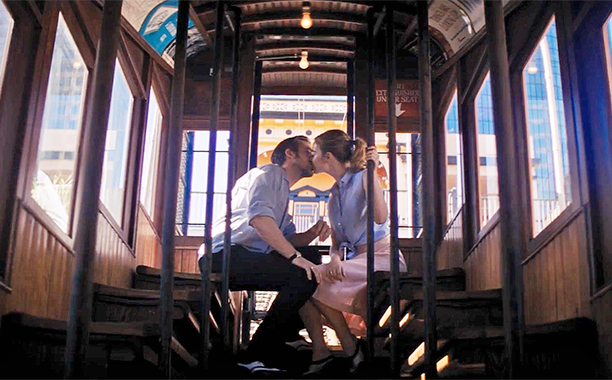 The film pays tribute to the Technicolor era of Hollywood, so it's fitting that the female lead's wardrobe is a rainbow of gorgeous vintage pieces. If you haven't seen La La Land yet, put on your favorite vintage dress and dance your way to the nearest movie theater ASAP. You won't regret it.