We're officially obsessed with Halle Berry's "No More Boyfriends" shirt
Halle Berry has pretty much been killing her social media game this year. The shares gorgeously curated, funny, and often incredibly inspirational pics and posts to her Instagram account, and we're here for every second it it.
And what exactly is a "no more boyfriends tee", you might ask? It's exactly what it sounds like — a simple white t-shirt with the phrase "no more boyfriends" boldly printed across the front. Okay, okay, enough talk. Let's just all take a look at it together.
See what we mean?
And while this may seem like just another ironic tee, this actually has some pretty significant meaning for Berry. In a Q&A session earlier this year, Berry opened up about her experiences with dating and marriage, and how she's learned to be okay with herself over the years.
"I have learned to deal with three failed marriages, which has not been easy, especially when there's children involved," she said. "[As] women, we go into marriage thinking it's going to last forever and that this is our prince on a shiny horse. That's what fairy tales taught me as a kid ... and I'm kind of anti-fairy tales today."
Hmmm…is it us, or would "Anti-Fairy Tales" also make a pretty killer tee?
And if you want a "no more boyfriends" tee of your very own, no worries — we've got you covered. You can order one from Just Mike The Poet's website for a mere $15.00 (you'll have to shred yours yourself if you want it to look just like Halle's though!).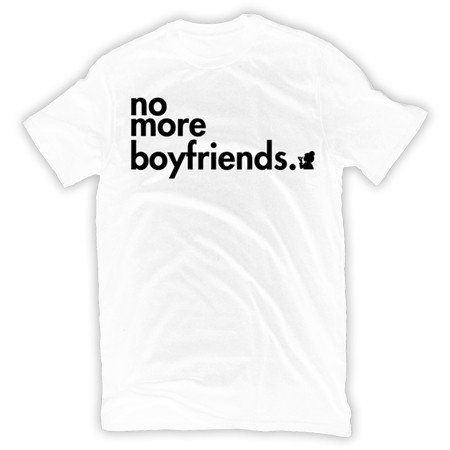 Get it here.