This fashion show sent models wearing car mats and side-view mirrors down the runway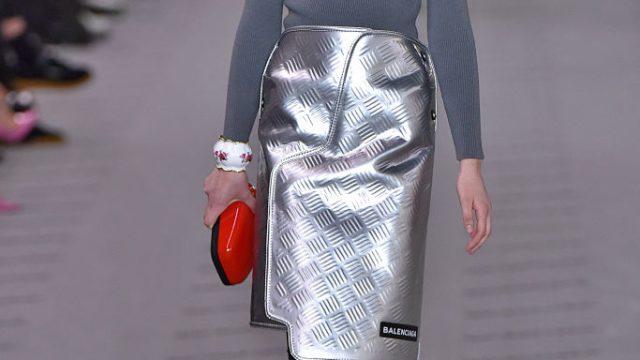 Is "automobile chic" the next big fashion trend? It will be, if Balenciaga has anything to say about it. At Paris Fashion Week on Sunday, the design house sent models down the runway wearing car mats as pencil skirts and carrying side-view mirrors as clutches — and the results were…surprisingly wearable!
For its 100th anniversary, Balenciaga's artistic director, Demna Gvasalia — who took on the role at the couture fashion house last year after founding cult streetwear brand Vetements, where he remains head designer — looked back at photos from the early days of the brand, when founder Cristóbal Balenciaga was designing his first couture collections.
From there, Gvasalia drew inspiration for this season's Balenciaga coats — which button off-kilter over one shoulder — looking at the ways models wore their clothes backstage: sometimes slouchy, sometimes pulled tight to keep warm.