This fashion month officially had the most diverse runways yet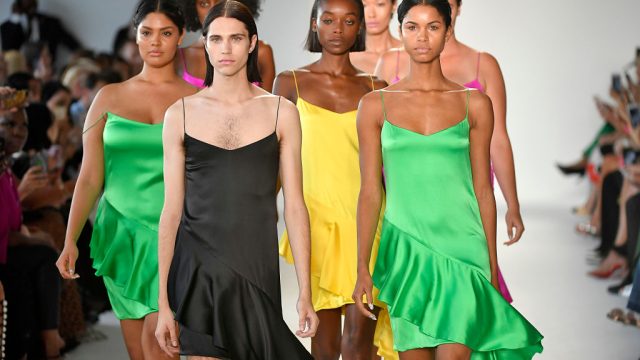 This fashion month, the Spring 2018 runways were more diverse than ever — and that's a great thing. Runways during New York, London, Paris, and Milan Fashion Week showcased the most diverse model castings yet, with more non-white, transgender, older, and plus-size models stomping the catwalk than ever before.
The Fashion Spot conducted the seasonal report, which measures diversity in the fashion industry. They looked at 8,258 runway appearances across 266 major shows. This season's findings show an improvement in racial diversity, with 30.2% of models identified as women of color. Fashion month also saw gains in transgender and non-binary visibility, with 45 trans and 4 non-binary models walking the runways. Plus-size models were more visible, too, with 93 curvy models claiming space on the catwalk. *slow clap*
Models in their 50s, 60s, and older also experienced a modest lift in representation on the runways, with 27 models over the age of 50 walking the catwalk in all four fashion capitals. Among them were 51-year-old supermodel Cindy Crawford.
You betta werk, Cindy.
But the fashion industry still has its work cut out for it.
Overall, non-white models saw only a 2.3% increase in representation at fashion month since Fall 2017. New York and London Fashion Weeks made great strides in including more racially diverse models. In fact, every runway in both cities showcased at least two women of color. However, Paris and Milan Fashion Weeks remain far from on-trend. Milan, in particular, is the only city wherein non-white models still account for less than one-fourth of castings. Ugh.
Moreover, plus-size models made up only 1.13% of castings across all four cities. Models over 50 represented a mere 0.33% of castings. Transgender and non-binary models accounted for just 0.59% of Spring 2018's runway appearances — a record high, but still shamefully low.
For now, the fashion industry is far from perfect. But according to fashion industry icons like Vogue editor-in-chief Anna Wintour, we're seeing progress.
"It was a giant step forward and I think that those who have spoken up in the past publicly should really be given a lot of credit," said Wintour in a video for Vogue. "And I hope that those that did not follow suit will now recognize that fashion has a responsibility to be in step with the times and not persist in portraying a one-note way of looking at women.
We hope so, too.