This fashion designer just showed us how to switch up our cat eye, and BRB running to Sephora
Autumn may be the season of falling leaves and cozy sweaters, but that doesn't mean we can't keep a bit of summer with us as the weather turns colder. On the Missoni runway at Milan Fashion Week this weekend, the designer showed a colorful take on cat-eye makeup that's super summery but also perfect for fall — a reminder of warmer weather and a way to brighten up the all-black outfits we tend towards in the colder months.
Few designers are known for their innovative use of color like Missoni. Since 1953, the Italian fashion brand has been pumping out one-of-a-kind knitted designs in colorful patterns. This season, Missoni continued the tradition with its Spring 2018 ready-to-wear collection.
In honor of Angela Missoni's 20th anniversary as the brand's creative director, the runway was styled a bit more freely as part of the celebration. During Saturday's show, co-ed models walked the runway in sparkly tights, oversized floppy hats, sheer dresses, thin neck scarves and more. Then, to really get the party started, select female models in the show wore superhero capes (perhaps a political statement?) and neon-colored cat-eye makeup.
Below, we've pulled a few standout beauty looks from the show. For starters, model Hailey Baldwin walked the runway with mint green winged eye makeup — a look we'll definitely be trying for fall. Then, American fashion model Taylor Hill rocked neon blue liner with a black mesh jumpsuit number.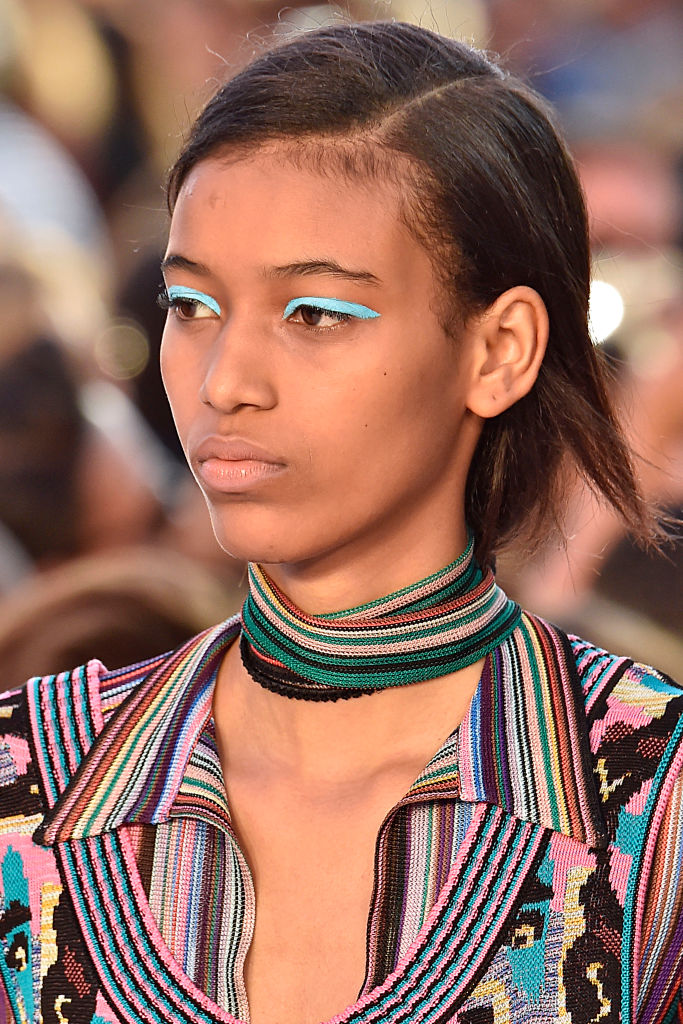 For clothing, this season's Missoni designs for both men and women are ones that you can effortlessly take straight from the runway to the streets. From the ready-to-wear collection, we spotted practical knits, bright maxi dresses, jumpsuits, blouses, and blazers that are totally suitable for everyday wear. Should you invest once the line's available for purchase, just be ready for a whole lot of compliments — 'cause these pieces are chic with a capital C.
Below are just a few of our favorite pieces that made their way down the runway.
Way to take Milan, Missoni.