The new trailer for Fantastic Beasts includes a major hint about Dumbledore's love for Grindelwald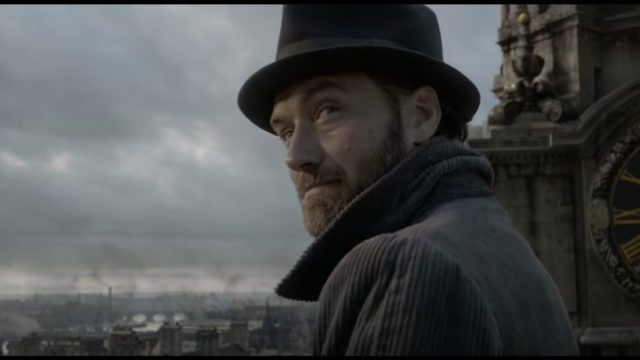 So far, trailers for Fantastic Beasts: The Crimes of Grindelwald have given us Young Hot Dumbledore, a glimpse of alchemist Nicolas Flamel, and the promise of a potential love triangle featuring the Lestrange family. Now, with a little less than two months until the movie's November 16th premiere, Warner Bros. has released the final Fantastic Beasts trailer—and it contains a hint about Dumbledore and Grindelwald.
In the trailer, which dropped today, September 25th, we see Johnny Depp (sigh) as Gellert Grindelwald preparing to incite a war between the wizarding and non-wizarding worlds, and we learn that Dumbledore wants Newt to kill Grindelwald.
"Dumbledore, why can't you go?" Newt asks, saying what we're all thinking.
"I cannot move against Grindelwald," Dumbledore replies. "It has to be you."
As he says this, we see a seconds-long scene of an even younger Dumbledore peering into a mirror to see…young Grindelwald. It's definitely not an illusion; seconds later, we see Law's Dumbledore standing in front of the same mirror, Depp's Grindelwald staring back at him.
https://www.youtube.com/watch?v=bfMsZrrQ5Vo?feature=oembed
The mirror from the trailer looks suspiciously like the Mirror of Erised, which, as any Potterhead will remember, shows the viewer their deepest desires. J.K. Rowling herself has said that Dumbledore was in love with Grindelwald, which makes us think that there's something more to this short scene.
However, it's also possible that we might not see more of the two legendary wizards' relationship. Back in January, Director David Yates told Entertainment Weekly that the upcoming Fantastic Beasts film would "not explicitly" depict a gay Dumbledore, although he did acknowledge that Dumbledore and Grindelwald were in love.
The new trailer contains plenty of other surprises as well, including another look at Nicolas Flamel, mention of a safe house in Paris, and a thestral-drawn flying carriage. There's also the appearance of a human Nagini, who, Entertainment Weekly reveals, can voluntarily transform into a snake but will eventually be trapped in her animal form for good.
Now if only November 16th would get here already.