This new "Fantastic Beasts" poster has a HUGE connection to "Harry Potter and the Deathly Hallows"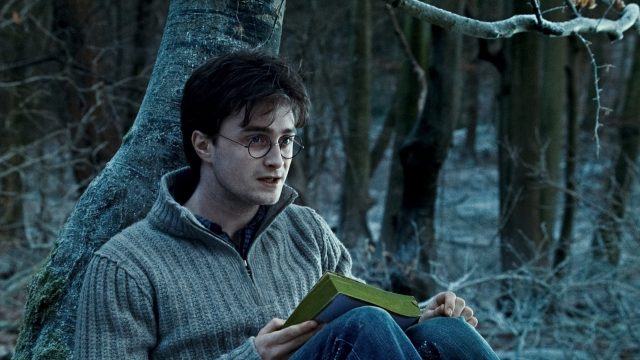 There's a series of brand new Fantastic Beasts and Where to Find Them posters out right now, and they're, well, fantastic.
Entertainment Weekly released this first look at them, showing our (soon to be favorite) characters Newt, Tina, Jacob, and one Percival Graves. This last character is played by Colin Farrell, and so far, everything about him has been wrapped up in a cloak of invisibility. He sure SEEMS like he's going to be a ~bad wizard~, even though he works for the Magical Congress of the United States, but idk. Then again, Lucious Malfoy did work for the Department of Magic, so it's entirely possible.
His character poster also includes a little something extra. Up in the corner, there's a circle in a triangle and a straight line running through both of them. Just another cool design, or THE DEATHLY HALLOWS?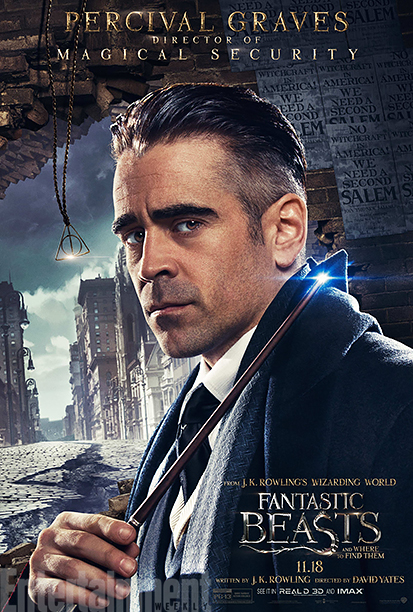 Yup. Deathly Hallows.
What possibly could this mean? Percival might just believe in the ~power~ of the Deathly Hallows, and maybe he's been out there looking for the Invisibility Cloak, Resurrection Stone, and Elder Wand himself (except, if he's looking in NYC, he's way off track).
But, as EW reminds us, it might mean something else: This could be about Gellert Grindelwald, a very powerful dark wizard (and one-time friend of Albus Dumbledore, who was partially responsible for the death of Ariana Dumbledore). Grindelwald was also just coming to his ~dark power~ in Europe in 1926, which is conveniently, the same year that Fantastic Beasts takes place. Grindelwald also used the Deathly Hallows as his symbol.
Big question: Is this a *tiny* little hint that we might get some Deathly Hallows action during the movie, OR BETTER YET, not just talk about Dumbledore, but actually seeing him?? We'll find out on November 18th.