The new Fantastic Beasts 2 trailer is here, and it's downright magical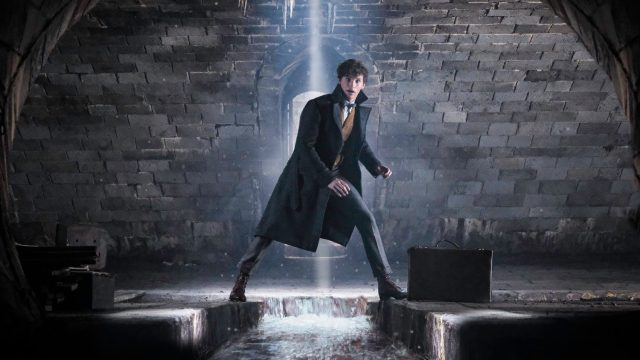 Great news, wizarding world fans: On Saturday, July 21st, a brand new Fantastic Beasts 2 trailer dropped at Comic-Con. And it finally introduces us to a character we've been dying to meet since Harry Potter and the Sorcerer's Stone: Nicolas Flamel.
In Fantastic Beasts: The Crimes of Grindelwald, Newt Scamander (Eddie Redmayne) joins forces with Albus Dumbledore (Jude Law) to stop the evil Gellert Grindelwald (Johnny Depp) from forming a new generation of full-blood wizards to destroy muggles and half-bloods.
Cast members from the first Fantastic Beasts film — including Redmayne, Don Fogler, and Katherine Waterston — were in attendance at the Comic-Con panel, as well as new additions Law and Zoe Kravitz, Entertainment Weekly reports. To kick off the panel, Redmayne appeared with a wand, waving it before the crowd. He then said  "lumos" to illuminate the Deathly Hallows wristbands worn by attendees.
Then, they got right to it and played the new Fantastic Beasts 2 trailer. It starts by showing a flashback of young Dumbledore teaching Hogwarts students how to defeat a Boggart, a mirage of their greatest fear. A young Newt conjures the image of a desk with a typewriter, puzzling Dumbledore.
"That's an unusual one," Dumbledore says. "What Mr. Scamander fears above everything else is…?"
"Having to work in an office, sir," Newt responds.
Then, the Fantastic Beasts 2 trailer jumps ahead to the present day, where Newt and Dumbledore are fighting to defeat Grindelwald. Grindelwald made an appearance in Fantastic Beasts and Where To Find Them, disguised as Percival Graves, before he was taken into custody.
However, as the trailer shows, the relationship between Grindelwald and Dumbledore appears to be complicated. The two share a history, and defeating him may prove more complicated for Dumbledore than he originally thought.
Oh, and like we mentioned, the Fantastic Beasts 2 trailer finally introduces us to Nicolas Flamel.
Flamel is the immortal alchemist who created the Sorcerer's Stone.
Watch the Comic-Con Fantastic Beasts 2 trailer below.
https://www.youtube.com/watch?v=vvFybpmyB9E?feature=oembed
We don't know what we did to deserve a trailer that's over three minutes long, but we'll take it. We can't wait for November.