"Fantastic Beasts 2" just gave us another look at Young Hot Dumbledore, and it's proof that magic is real
Back in November, we got our first look at Jude Law as Young Hot Albus Dumbledore in Fantastic Beasts 2 — and the internet was SHOOK. Well, internet, prepare to catch feels all over again, because a new photo of Dumbledore is here and Albus be damned, it's glorious.
It's not totally clear what exactly is happening in the photo from Fantastic Beasts: The Crimes of Grindelwald, the second of five films, other than the fact that Dumbledore is looking pretty Pensieve, er, pensive. Maybe he's pondering how to defeat his frenemy, Gellert Grindelwald? Maybe magizoologist Newt Scamander (Eddie Redmaybe) just said something real interesting that will help Dumbledore defeat said frenemy? Maybe Dumbledore just managed some mischief? (We're personally rooting for the latter.)
Whatever the case, something is *definitely* on his mind. I mean, LOOK AT HIM.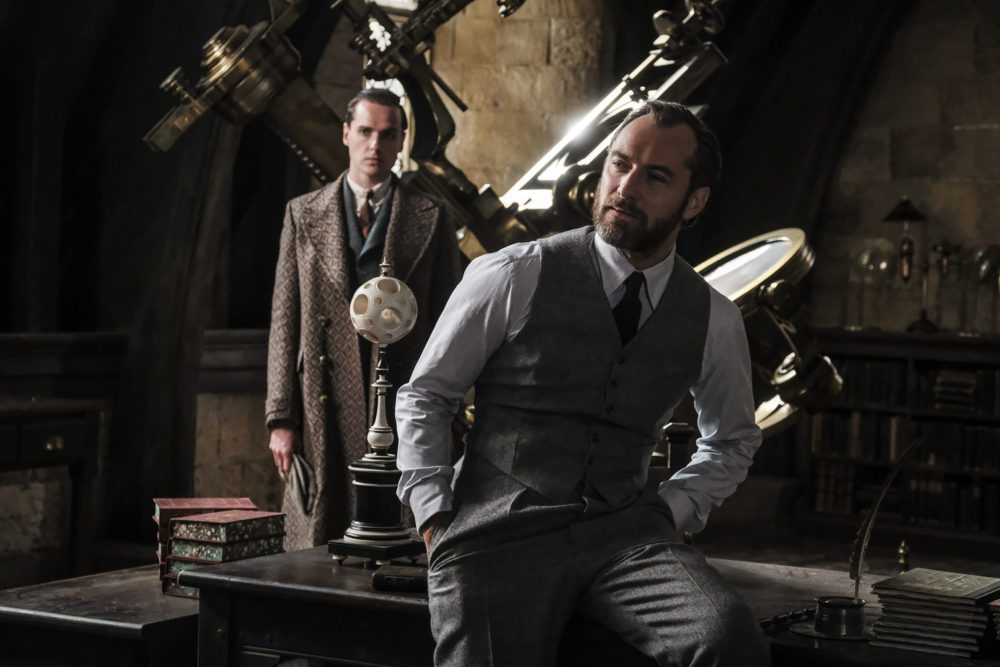 We also got another look at Grindelwald who, once again, looks to be up to no good. And as you surely know, he's played by Johnny Depp, whose casting has remained a point of controversy.
So, what exactly can we expect from the Fantastic Beasts sequel?
As a refresher…
"At the end of the first film, the powerful Dark wizard Gellert Grindelwald (Johnny Depp) was captured by MACUSA (Magical Congress of the United States of America), with the help of Newt Scamander (Eddie Redmayne)," a synopsis reads. "But, making good on his threat, Grindelwald escaped custody and has set about gathering followers, most unsuspecting of his true agenda: to raise pure-blood wizards up to rule over all non-magical beings."
"In an effort to thwart Grindelwald's plans, Albus Dumbledore (Jude Law) enlists his former student Newt Scamander, who agrees to help, unaware of the dangers that lie ahead. Lines are drawn as love and loyalty are tested, even among the truest friends and family, in an increasingly divided wizarding world."
Fantastic Beasts: The Crimes of Grindelwald will see Katherine Waterston, Dan Fogler, Alison Sudol, and Ezra Miller return (!!), and they'll be joined by Zoë Kravitz, Callum Turner, Carmen Ejogo, Poppy Corby-Tuech, and more (!!!). The magical film, directed by Harry Potter favorite David Yates and written by J.K. Rowling herself, lands in theaters on November 16th, 2018, which honestly feels way too far away — but hey, at least it's almost 2018!