Fans are worried that Netflix might cancel "Sense8," and PLEASE NO!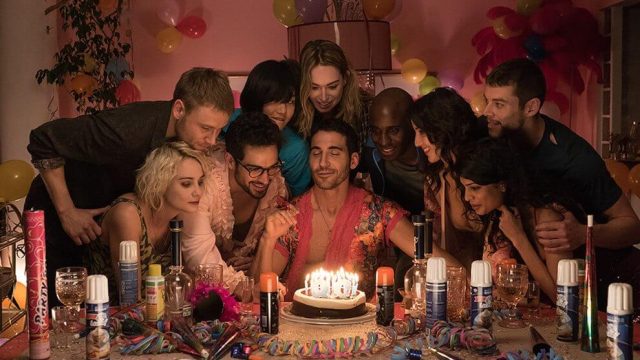 Despite its second season only premiering at the beginning of May, fans are worried Netflix might cancel Sense8, and now we're seriously concerned.
If you're not watching Sense8, then WHAT ARE YOU DOING?! The show was devised by the Wachowski sisters — the pair behind The Matrix Trilogy — and it's one heck of a science fiction thriller. Not only that, but the series has been praised for its inclusivity when it comes to race, sexuality, gender, and other kinds of identity, and we love that its different story lines take place all over the world.
So how did did all this Sense8 drama kick off?
Well, we can thank one of the show's stars, Brian J. Smith, for the hysteria. Smith, who plays Will Gorski — one of the core characters — responded to a fan's tweet that urged people to start making more noise about the Netflix show. false
Fans quickly flooded social media with pleas for the show to remain on air, sharing all the things that make it so special.
"A show with great representation, talented cast and very interesting plot? Sense8 has it all and it just can't be cancelled #RenewSense8," wrote one fan.
false
Luckily, it seems that no real decision has been made about the fate of Sense8.
According to a report by Deadline earlier this year, Netflix is currently in the middle of renegotiating contracts with the cast.
"I hear about half of the eight leads have closed deals, and the rest are in negotiations. Insiders are optimistic all would come back," the report reads. "I hear that under the new pacts, which include Season 3 provisions, the cast would be on hold until June, so Netflix will likely make a renewal decision by then. Given the trouble the Internet network is going through to secure the cast, it is logical to assume that Netflix is probably high on a potential third season." 
By the sounds of it, then, Netflix is just ironing out all the logistics. As Deadline point out, the show has a long production schedule due to shooting all over the world.
However, we do get why fans are worried (and not just because one of the cast members is drumming up hysteria). Netflix recently canceled one of its original shows after just one season, something they've never done before.
Hopefully, we'll should know more about Sense8 and any potential third season soon!