Fans are convinced that Lucy Hale is coming to "Riverdale" Season 2, and here's why
Listen up PLL and Riverdale fans — because we may have some major intel!  Twitter seems to think that Lucy Hale is joining the cast of Riverdale, and while we truly aren't sure if it's true, it's definitely a theory that's piqued our interest. As in, we're currently low-grade obsessed with this and need someone from Hale or Riverdale's camp to confirm or deny STAT. Because we are prone to let both our imaginations and excitement run wild — especially when our favorite teen shows are involved.
Why is the interweb convinced this may be happening, you ask? Great question. And we're here to fill you in.
Basically, Riverdale's Madelaine Petsch (aka Cheryl Blossom) posted the following to her Instagram account:
Fans were quick to notice that Hale posted that she wished she was there with them.
To which Petsch replied,
"We shall recreate when you're here."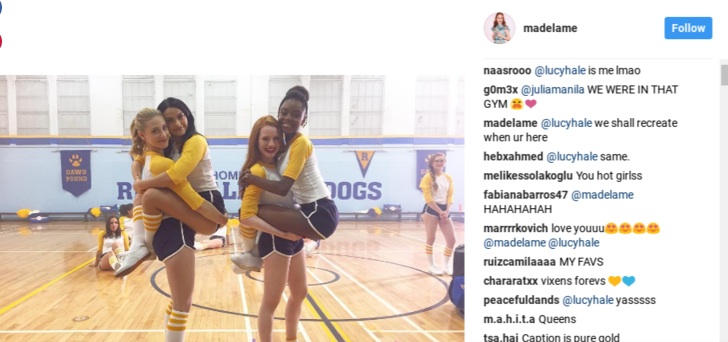 "WHEN YOU'RE HERE"?! Could she possibly mean "here" as in, ON SET, ACTING WITH THEM?! It's of course entirely possible that Petsch simply meant "here" as in hanging out in a completely generic capacity. We know that Hale and Petsch are friends, and friends (gasp) do things like post on each other's Insta pics and make plans to hang. So this could absolutely all be nothing but sweet, sweet fan fantasy.
But if it's not, we're 100% (make that 1000%) here for it. As many will know, Pretty Little Liars  just ended it's seventh and final season, leaving a gaping Lucy Hale-shaped hole in our lives. Plus, we already know she can more than handle the teen mystery genre, so she'd be a perfect addition to Riverdale's noir vibe.
Can't wait to know if this is truly a thing or not. Riverdale Season 2 premieres in October, but hopefully we won't have to wait that long to find out.