A fan just realized she once took a picture with 11-year-old Blake Lively at a Spice Girls concert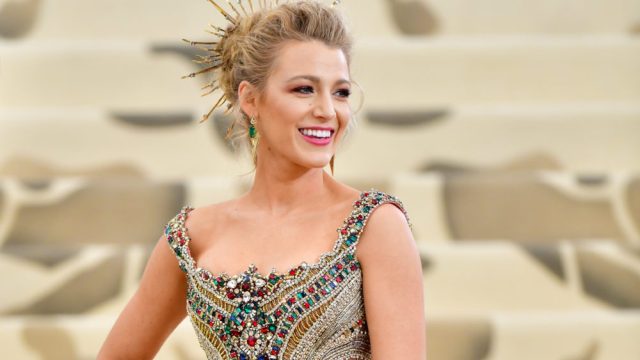 Twenty-one years ago, a pint-sized pop music fan attended a Spice Girl concert in San Bernardino, California. The fan, a five-year-old girl named Bria Madrid, came across an older girl with blonde pigtails and platform shoes dressed like Baby Spice, and the two took an adorable pic together. Now an adult, Madrid rediscovered the photo and realized that the older girl was none other than mega-famous actress Blake Lively.
Madrid posted the cute pic on Twitter with the caption:
"Found a picture when I was 5 at my first concert. #SpiceGirls and took a picture with a girl dressed up as Baby Spice who I just realized now was @blakelively"
false
This is the kind of throwback photo we live for. And better yet? Blake retweeted the photo with the caption, "My secret is out…" So cute!
Lively also Instagrammed the adorable pic and tagged Baby Spice herself. The actress said, "Pretending to be someone else… since 1997 (Thanks @briaaamadrid for the photo of us at the Spice Girls concert. Sorry -not sorry- I tricked you into thinking I was @emmaleebunton)"
https://www.instagram.com/p/BmEDj5fjGO1
And now, just to bring things full circle, Baby Spice has responded. She commented on Lively's Instagram post, writing, "So cute, you're rocking those pigtails @blakelively ??"
Lively then wrote back, "@emmaleebunton I'm officially ☠☠☠☠. Forever bowing down to you. ???I cannot believe you know who I am. This will never be normal. ☠?☠"
We're so glad Bria unearthed the OG photo and made all of this possible. Now excuse us while we go scan every photo of ourselves ever taken in public.