Sound the alarm bells! Due to fan demand, Netflix's "Sense8" is getting a 2-hour finale special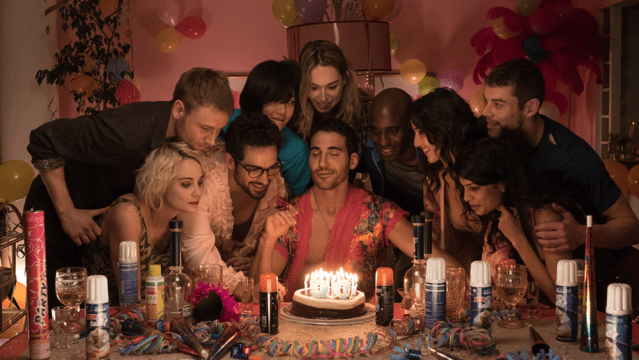 ATTENTION, Sense8 fans: You fought, and you fought hard to put a stop to the cancellation of your favorite show, or to at least get some resolution. And now, closure is coming your way — and soon, at that. Yup, you read that right!
"The passionate letters, the petitions, the collective voice that rose up like the fist of Sun to fight for this show was beyond what anyone was expecting,she wrote. "Thank you all. Now let's go find out what happens to Wolfgang."
Then, a video of the cast singing "What's Up" by 4 Non Blondes was posted on Netflix's twitter account, along with a message that read, "It's happening. Two-hour finale episode. Tell your cluster."
Needless to say, fans were FREAKING OUT about the show's 2018 return.
Now, let's back up and look at the incredible commitment of the Sense8 fan base, shall we?
While on air, the series was lauded for being a top-notch science-fiction thriller, and for telling compelling, inclusive stories about characters of different genders, races, and sexualities.
As soon as word got around that Netflix was considering not renewing the show for another season, fans took to social media and FLOODED the network with pleas to keep the show on air.
Their efforts sadly didn't pay off, and Netflix gave a very sincere apology while announcing the cancellation.
"It is everything we and the fans dreamed it would be: bold, emotional, stunning, kick ass, and outright unforgettable, Cindy Holland, VP of Netflix original content, said in a statement. "Never has there been a more truly global show with an equally diverse and international cast and crew, which is only mirrored by the connected community of deeply passionate fans all around the world.
Then, they even apologized…again! They said they were trying to make it work, but just couldn't.
That is, until now.
Clearly, they couldn't ignore the continued cries of protest, as well as #SaveSense8, a hashtag that exploded all over Twitter. So, CONGRATULATIONS, Sense8 fans for the well-deserved victory!