This fan art of Harry Potter meeting Newt Scamander is too adorable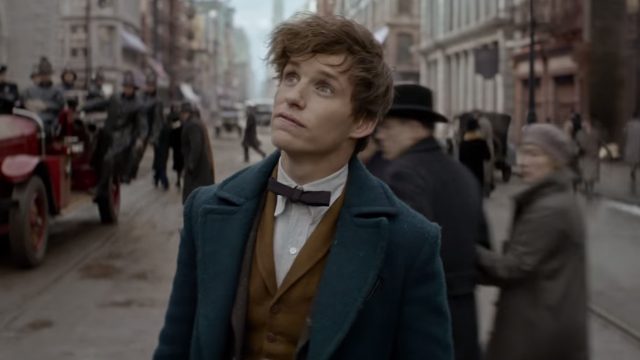 We've spent the last week completely fangirling over Fantastic Beasts and Where to Find Them, the Harry Potter prequel movie that opened last Friday (November 18th). And now someone has imagined what it would be like if Harry Potter and Newt Scamander met and it's just to beautiful.
Given that Fantastic Beasts and Where to Find Them is set decades before the Potter series, it's unlikely that we're going to see any real cross-over in the next four Beasts films. While we know that Dumbledore (!) is expected to make a return, albeit a bit younger, and his great battle with Grindelwald is also bound to be brought to life on screen, we can't imagine we're going to see Harry and the gang make an appearance.
That's why we've fallen in love with this artist's interpretation of Newt Scamander, the protagonist from Fantastic Beasts, and Harry Potter meeting.
Ugh, we just adore everything about this. We love Newt and Harry re-imagined as anime drawings, and there's such a cute message about how Harry is passing the baton of the Wizarding World over to Newt (okay, are we reading too much into this?).
What's more, we're not the only ones who are MASSIVE fans of the picture.
Yep, Queen J.K. Rowling herself is also tweeted her appreciation for the picture.
Ahh!
After seeing the fact that Rowling had shared the picture, the artist, Twitter user @kirikawa_juu, tweeted their thanks to the author.
"I'm kirikawa ,Thank you for seeing my picture," they wrote. "It can't get any better than this! I will be your biggest fan forever...!!!😭"
Rowling, being the sweet person she is, tweeted back, saying how much the illustration meant to her.
"Thank you for that beautiful painting. It really moved me! They're two characters that mean so much to me," she said.
TOO. CUTE. It must be so amazing for Rowling to receive so much incredible art from Potter-fans.
Now, we wonder whether there's any fanfiction online where Harry uses a time turner to help Newt save some magical beasts…