This famous feminist is your soul mate, based on your zodiac sign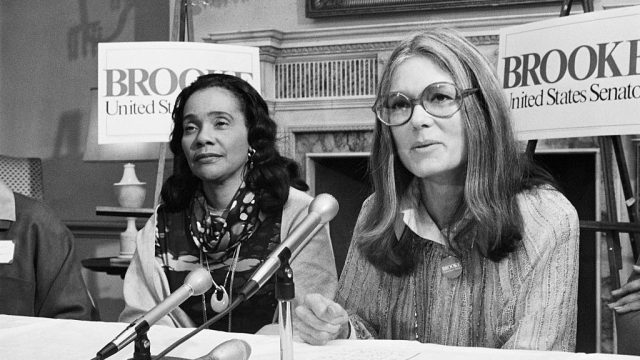 In honor of International Women's Day on Thursday, March 8th, we're celebrating the famous women who have majorly impacted the feminist movement. Each groundbreaker helped fight for gender equality in her own unique way, which helped lead us to where we are today. If you're looking for even more fem-spiration, we've selected the famous feminist who is your soul mate, based on your zodiac sign. Look to her trailblazing traits that you share to motivate and inspire you this week.
Whether you're looking for the push you need to write that book proposal, launch a nonprofit, or just speak up to the bully at work, these famous feminist women are here to guide you.
ARIES
Gloria Steinem, an Aries, is often referred to as the Mother of Feminism, so if you're an Aries, you know you were born to lead. Ambitious AF (classic Aries trait) she co-founded the iconic feminist magazine Ms. as well asseveral other influential feminist groups, including Women's Action Alliance, National Women's Political Caucus, and Women's Media Center.
TAURUS
Coretta Scott King personifies the typical Taurus traits — a grounded leader who fights for humanity in the most compassionate way possible. The wife of Reverend Dr. Martin Luther King Jr., her life was "devoted to the highest values of human dignity in service to social change," including women's equality. She helped found NOW (National Organization for Women) and played a key role in the organization's development.
GEMINI
Curiosity, expression, and communication are cornerstones of a true Gemini, which also encapsulates the essence of feminist and Puerto Rican poetJulia de Burgos. In the 1930s, de Burgos used her writing to question conventional gender roles, the institution of marriage, as well as the notion that womanhood and motherhood are synonymous.
CANCER
Cancers are known to be super strong on the outside and soft, benevolent, and nurturing on the inside, which perfectly sums up the extraordinary Malala Yousafzai, the youngest-ever Nobel Prize winner, who rose to fame with her memoir, I Am Malala,documenting her fearless journey as a young student fighting for access to education in Pakistan.
LEO
Leos love to be the center of attention, like, say, the president of the United States. Which is why Hillary Clinton best personifies a Leo. That, and her drive to succeed and to be admired and loved (all Lioness traits). Clinton has completed a lot of firsts, including being the first-ever female senator from New York, and the first female presidential candidate from a major party.
VIRGO
Virgos are hardworking, committed to social justice, and have a deep sense of humanity, which makes them one of the most subtly powerful and passionate zodiac signs. That's why Winona LaDuke is your Virgo match. A Native American feminist, activist, and environmentalist, she helped found the Indigenous Women's Network in 1985, and works tirelessly on sustainable development and preservations efforts. In 1998, she was named Ms. magazine's Woman of the Year, and in 2007, she was inducted into the Women's Hall of Fame.
LIBRA
Libras are known for being sociable and inclusive, which is why bell hooks' instrumental book, Feminism is for Everybody, is a trademark Libra stance. hooks, a political activist and theorist, is also known to be a charismatic speaker, which every Libra — the chatty charmer of the zodiac sign — can relate to.
SCORPIO
Scorpios are passionate and driven, and know exactly how to achieve their goals, including knowing how to best work the limelight. This best sums up Emma Watson. She's turned her star power into a launching pad for the #HeForShe movement, her own feminist book club, and her gender equality work with the U.N.
SAGITTARIUS
In 1949 Simone de Beauvoir wrote The Second Sex, which critiqued the patriarchy and social constructs faced by women and has been touted as "the" book that paved the way for modern feminism. de Beauvoir was adventurous and a philosopher — key Sag traits — who was obsessed with the human struggle to be free, which is also something the independent-minded Sag is obsessed with.
CAPRICORN
Like Alice Walker, Capricorns are born leaders who are known for their ambition and intelligence, as well as for keeping many irons in the fire. Writer and activist Walker is known for her groundbreaking novel The Color Purple, as well as her involvement in the Civil Rights Movement alongside Dr. King before joining Gloria Steinem as an editor at Ms. She was the first to coin the term "womanism," which sought to include black women in feminism.
AQUARIUS
Kishida Toshiko was one of the first Japanese feminists who worked to improve the status of women, particularly young Japanese girls. She famously said, "If it is true that men are better than women because they are stronger, why aren't our sumo wrestlers in the government?" Rebellious and ahead of her time? Pretty much sums up an Aquarius. 
PISCES
Pisces are the selfless dreamers of the zodiac who serve the world best through their deep artistic expression. Embodying that perfectly is Maya Angelou, an American poet, singer, memoirist, and civil rights activist who inspired both women and African Americans to overcome gender and race discrimination through her powerful writing.
https://www.instagram.com/p/BgCI7Uel1K6
There's a famous feminist in all of us.