This man believes his family is being haunted by the ghost of a dead woman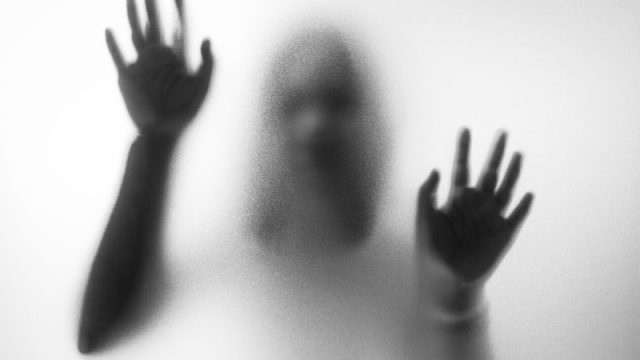 Halloween might be over, but as one man has found out, spooky things are still happening. Luke Jackson from Sheffield, South Yorkshire in England claims that his family is being haunted by the ghost of an old lady. He even has the ghostly photo to prove it.
Jackson told Daily Mail UK that he got up in the early morning hours of November 13th after not being able to sleep. Subtext: We have a ghost on our hands.
"I just started hearing footsteps and it was like there was something there," Jackson said. "I was just like 'that's definitely footsteps' — and I used my phone as a flashlight by taking a photo. That's when I captured it."
He took a photo of the stairwell and realized he had captured the image of a transparent old woman at the bottom of the stairs. The ghostly woman is clearly wearing a purple cardigan and looks as though she's opening or closing the door in the downstairs hallway.
Jackson believes the woman in the photo is the house's former tenant who died 18 months prior. The house is currently being rented by Jackson's brother. Jackson has been staying in the house for a few months, but hadn't noticed any strange occurrences until now.
According to Daily Mail, Jackson is shocked by the clarity of the photo, stating that this picture is "almost too perfect."
"If I'm being honest this thing has completely stumped me. I just don't know what it is and the only explanation is that it's a ghost...You sometimes have bits of the thing, arms and legs, but never a whole photo of the entire thing."
The image is so clearly an old woman wearing a black dress and purple cardigan. It's downright spooky!
The woman who perviously lived in the home had mobility problems and couldn't use the stairs, Jackson noted. His brother's girlfriend has also supposedly heard banging and footsteps near the stairs since moving into the house.
This photo could, of course, be the result of Photoshop or a technology glitch of some sort. But let's give Jackson the benefit of the doubt, because hey — we want to believe!