9 fall travel destinations you should book now, because spoiler: it's hella cheap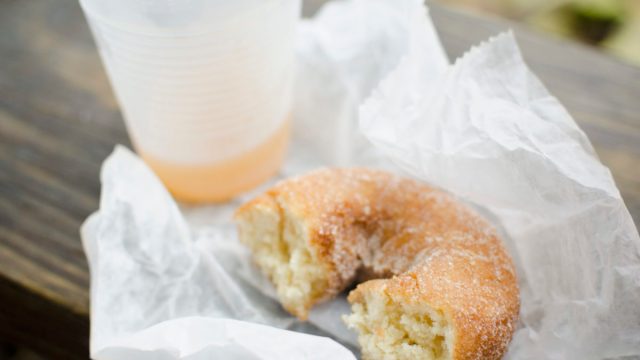 Yes, we know, summer is almost over, but that doesn't mean your wanderlust has to come to a halt. This the perfect time to book some fall travel. While you might be mourning the end of summer, it's actually cause for celebration—because that means many destinations are cheaper, less crowded, and did we mention, they're cheaper?!
"Fall is one of the best times to get away, as it's the start of 'shoulder season,' or the time between peak travel seasons when airfare bottoms out," said Liana Corwin of Hopper, an app the helps you determine the best time to book a flight. But in addition to wallet-friendly fares, fall is also a perfect time to truly experience a new city without the overflow of tourists. The food, culture, and experiences will be so much richer.
HelloGiggles asked top travel experts to name must-visit cities and countries for fall. Whether you need a bit of R&R, extreme adventure, apple picking, or even a ghost tour, the locations below are sure to inspire adventuries you'll never forget. And you'll also have some killer Instagram pics.
Hudson Valley, New York
"Although only a few hours from New York City, you'll feel like you're in another world by heading to the Hudson Valley," said Debbie Arcangeles, host of The Offbeat Life podcast. Arcangeles suggested checking out The Great Jack O'Lantern Blaze, which runs from September 28th to November 24th. The annual fest displays more than 7,000 illuminated hand-carved lanterns. And for a sweet treat? "Go to Vera's Marketplace to get the best homemade cider donuts—your tastebuds will thank you for it!"
Paris
https://www.instagram.com/p/Bnb6m6PAYw1
The City of Lights is always a good idea, but Corwin advised planning a fall visit because flights to Paris go down by 25%. "Beyond knowing that you're getting a great deal, you'll also be able to avoid the summer crowds and mingle with the locals, who usually take off in August and return at the start of September," said Corwin. Also, the first Saturday in October is Nuit Blanche, when museums, galleries, and more are open all night and free to the public.
Ireland
Travel expert and owner of Palm Beach Travel Annie Davis suggested another budget-friendly destination across the pond. "Compared to other European destinations, Ireland can be surprisingly affordable during the fall, and activities are endless," she said. For accommodations, there's Rockhill House in Letterkenny. You can experience cheese tasting, Irish dance lessons, hiking, and even a foraging trail where you'll find mushrooms and greens, which the estate's chef will show you how to prepare.
Edmonton, Canada
https://www.instagram.com/p/BlGdyDnDuqL
Toronto is cool, but venture out west to Edmonton for a mix of nature and a bit of shopping. "Edmonton is known for its stunning river valley, and it doesn't disappoint come fall," said style pro Kristen Hedley. "The foliage turns golden and the weather turns mild, making for enjoyable river valley adventures." Once you're done working up a sweat, head over to Whyte Avenue for a few cocktails (Clementine and Baijiu are local faves) or thrift shopping, where you'll find the largest Goodwill in Alberta.
Nebraska City, Nebraska
If you associate fall with apple picking and hay rides, then you might want to book your flight to Nebraska. "The Harvest Celebration runs all fall season with u-pick and pre-picked apples and pumpkins, hayrack rides, caramel apples, fresh-pressed cider, a corn maze, and more," said Connie Van Nostrand of Arbor Day Farm. There's also the Preservation Orchard, which features a selection of apples that are no longer available commercially. "If you're looking for classic fall season experiences, there's no better place to be."
Savannah, Georgia
https://www.instagram.com/p/9hP977TXKP
What do you get when you mix southern charm with good eats and even a ghost story? Savannah! Adriana Smith, blogger at Travepreneur, loves the city for its warm, breezy weather and beautiful scenery. "It's the perfect background to a fall getaway," she said. She suggested staying near the historic district to find great food, shops, and activities within walking distance. But there's also something else that makes the city stand out. "Savannah is well known for its ghost tours, and if you're not too spooked for a fall scare, then book a tour fast," said Smith.
Japan
"Autumn is an exciting time to visit Asia, as there are many cultural and traditional festivals," said Anita Ngai of Klook. She specifically recommended Japan. "While known for its cherry blossoms, Japan is just as beautiful in the fall when the leaves begin to change." The annual Karatsu Kunchi Festival is a celebration of floats and parades that take place over three days. This coincides with the Saga International Balloon Fiesta, which attracts balloonists from around the world who compete in various challenges. "There's no shortage of exciting, picture-perfect sights and activities to experience," raved Ngai.
St. Louis
While you'll probably visit the famed Gateway Arch, there's way more to do in this midwestern city. "St. Louis has so many exciting attractions to explore, and best of all, most of them are free," said James Rider of Tour Washington D.C. The free options include the Anheuser-Busch tours, the local zoo with more than 16,000 animals, and Grant's Farm, which has special events during Halloween. For some eats and late-night fun, hitting up Delmar Loop is a no-brainer.
Mexico
"Fall is a fantastic time to visit Mexico," said Brian Sanchez, an advisor with Travel Leaders, because summer crowds have disappeared and prices are much lower. If you're looking for a variety of excursions, there's no better place than Riviera Maya. Sanchez called it "the adventure capital of Mexico. You can visit ancient Mayan ruins, zip line, go on jungle and fishing excursions, swim with dolphins, snorkel, and scuba dive in some of the most beautiful reef systems in the world."