5 Beautiful Thanksgiving Tablescapes to Feast Your Eyes On
The turkey won't be the only thing your guests will be raving about this year! Your table decor? Perfection.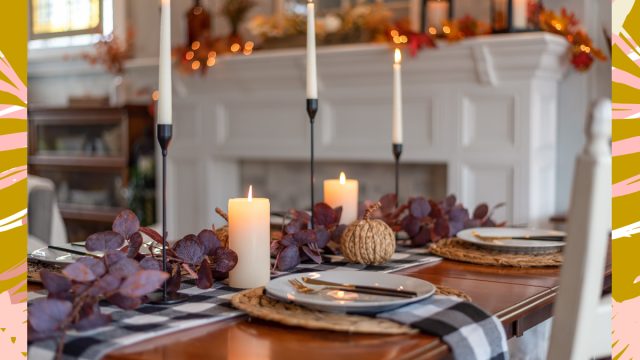 Thanksgiving dinner may be the main event, but for creative spirits, the real excitement lies in tablescaping. A fancy way of "setting the table," tablescaping is a creative process in which you arrange a table using tasteful decor, linens, and dinnerware to fit a particular theme.
From oversized centerpieces to kitschy accents and handwritten place cards to shaped napkins, TikTok has been a big source of Thanksgiving tablescape inspo. And while tablescapes can be as dramatic or simple as you'd like, there are some perimeters you should keep in mind.
Before mapping out your beautiful tablescape, think of who will be sitting at your table. If your guests include children, candles may not be the way to go.
RELATED: These Are the Cutest Thanksgiving Desserts That Your Guests Will Flip Over
The height of your table decor matters as well. Tall vases and plants can block guests from seeing those seated across from them, making conversing more difficult. It can also make it trickier to pass dishes or refill drinks.
The whole point of tablescaping is to have fun and make it personal! You can even do a little DIY.
Of course, you'll have to pick a theme first, and with it being Thanksgiving, there are so many different avenues to choose from. Do you go traditional or rustic? Keep reading to see what fall tablescapes we're drawing inspo from this Thanksgiving.
For those who like a traditional fall aesthetic:
If you love a fall vibe and don't mind getting a little crafty, take a whack at this DIY fall tablescape.
The base is made from regular garland and deco mesh, and decorated with fall-themed garland, oversized pumpkins, bows, and spray berries.
You will need a hot glue gun, which you can find at your local craft store along with the aforementioned items
For those who like a pumpkin aesthetic:
You can never go wrong with a pumpkin tablescape. In this TikTok, the centerpiece is a clear vase with fall leaves (you could also use jasmine or eucalyptus). It's accented with pumpkins that range in color and size.
Sticking with the pumpkin theme, the TikToker went with orange napkins, which are held in place with ceramic pumpkins. You can also add candles for ambiance.
For those who like a gold aesthetic:
If there's ever a time to dabble with an all-gold tablescape, it's Thanksgiving. The regency color makes for a warm contrast against red, orange, plum, and yellow hues.
Like this TikToker, you can use gold leaf-shaped placemats to accent your gold centerpiece, which in this case, is an oversized gold vase with gold candles and pumpkins. You can also get creative with gold leaf- and pumpkin-shaped découpage.
For those who like a silver aesthetic:
You've probably seen a silver Christmas tree. Well, it turns out silver pumpkins are just as big of a hit! In this TikTok, the sparkly silver and navy blue table runner is adorned with mini white pumpkins and large blue silver pumpkins.
Keeping with the theme, the TikToker opted for glass dinnerware and silver napkins.
For those who like a farmhouse aesthetic:
Sometimes, less is more. While gorgeous, a farmhouse Thanksgiving tablescape doesn't tear your attention away from the main event: the food!
Using neutral tones (beige and white) and light wood accents is an easy way to dress up the table without being overbearing. For a pop of color, set out fresh flowers.
Which Thanksgiving tablescape suits your turkey day taste?
Emily is a NYC-based freelance entertainment and lifestyle writer — though, she'll never pass up the opportunity to talk about women's health and sports (she thrives during the Olympics).
Read more