10 fall dessert recipes you should make if you love Maple Pecan Lattes
Get out those mixers, because it's officially fall, which means it's time to start baking warm, cozy desserts. And now that Starbucks has stepped up their game (Pumpkin Spice Latte who?) to include a brand new fall drink, the Maple Pecan Latte, we're inspired by these fall-ready maple and pecan desserts that you'll probably crave all year long.
These cozy recipes taste just like fall, and they all include hints of sweet maple and nutty pecan, which is basically all we need this season.
You could run out to Starbucks and grab a Maple Pecan Latte, or you could whip up these gorgeous dessert recipes from the comfort of your own home. And on a chilly fall day, what could be better than that?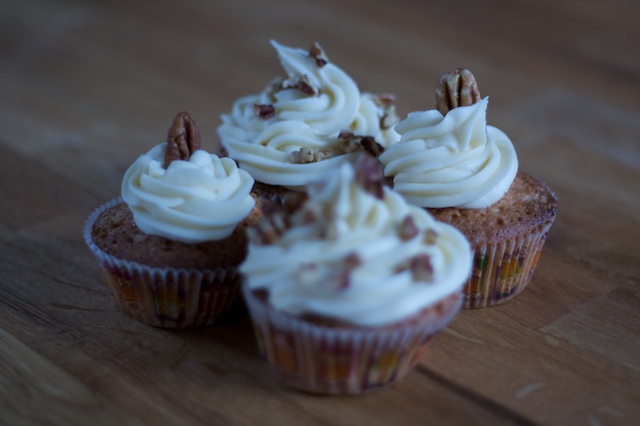 1Maple Double Crumb Coffee Cake
Coffee cake is the best kind of dessert, because you can also eat it for breakfast without people judging you, and we are here for that. This maple double crumb coffee cake from Willowbird Baking amps it up with the sweet taste of maple extract and chopped pecans — plus it features real maple syrup and toasted pecans on top. Is your mouth watering yet?
2Brown Butter Maple-Glazed Cinnamon Apple Scones
It wouldn't really be fall without apples everywhere, and these brown butter maple-glazed cinnamon apple scones from Half Baked Harvest are basically like fall exploded into one buttery, spicy dessert. But perhaps the best part of all? These scones can be made in 30 minutes. Yes, you read that right.
3Salted Caramel Pecan Tart
This salted caramel pecan tart from Dixie Crystals requires a bit of prep work, but it'll absolutely wow anyone at your festive fall dinner parties this year.
4Maca Mocha Pumpkin Banana Chocolate Chip Bread
This pumpkin banana chocolate chip bread from The Balanced Blonde is great because you can adjust the level of sweetness based on how much maple syrup you add. It's gluten-free and also free of refined sugars, thanks to the use of almond flour instead of white flour. So you can almost pretend it's healthy.
5Salted Maple Apple Tarte Tatin with Toasted Pumpkin Seeds
OK, so you might be feeling a little pumpkin fatigue, but it simply wouldn't be fall without some pumpkin goodness. This salted maple apple tarte tatin with toasted pumpkin seeds by Half Baked Harvest adds just the right amount of pumpkin, thanks to those crunchy toasted pumpkin seeds, and trust us: They're good. Though this dessert looks Martha Stewart-level, it's actually incredibly easy to throw together, and takes only 45 minutes from start to finish. How about them apples?
6Brown Sugar Pecan Cookies
When it comes to these brown sugar pecan cookies by The Recipe Rebel, we only have three words for you: Brown. Sugar. Frosting. Enough said, right?
7Salted Bourbon Pecan Pumpkin Pie
Yeah, we know Thanksgiving is still two months away but…this salted bourbon pecan pumpkin pie by Half Baked Harvest will have you giving thanks all fall long. Plus, what's fall without a splash of bourbon and a slice of pie?
8Maple Gelato
Sure, the temps are getting cooler now, but that doesn't mean you can't still enjoy a bowl of gelato — especially when it's maple-flavored. This recipe from Great River Maple can be made in the morning and eaten the same night for dessert, which is perfect if you're spending the day pumpkin picking or leaf peeping or whatever ~fall activities~ you love to do most.
9Brown Butter and Salted Maple Pecan Sticky Buns
If you eat a sticky bun without brown butter and salted maple pecan, did you even eat a sticky bun?
10Maple and Black Sesame Ice Cream
https://www.instagram.com/p/BUxd5Kghawy
This maple and black sesame ice cream from The Urban Poser is certainly nontraditional, but that doesn't mean it's any less decadent. Nothing is better than homemade ice cream — even in the fall — and the homemade cone is a truly special touch. We all scream for maple ice cream, now don't we?