This mom's viral Facebook post shows why fake pregnancy April Fools' Day pranks are not okay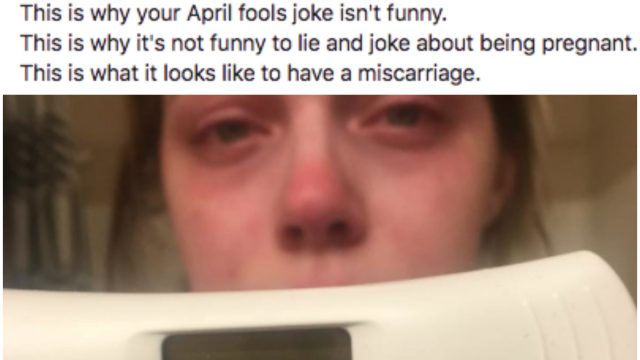 We've all seen a video or two of a girlfriend pranking her boyfriend with a fake pregnancy gag. It's a popular joke to play, especially on April Fools' Day. But one woman took to Facebook to explain that the fake pregnancy prank is not funny to those who have experienced a miscarriage.
In March 2017, Kayla Lee Welch shared her miscarriage story on Facebook. She posted photos showing herself, eyes swollen from crying, with her positive pregnancy tests.
"This is why your April fools joke isn't funny. This is why it's not funny to lie and joke about being pregnant. This is what it looks like to have a miscarriage...Please think twice before you post that April fools joke. Because what's funny for a second in your eyes crushes someone else's heart for eternity.#pregnancyisnotajoke," Welch wrote in her Facebook post.
The post went viral, garnering  over 52,000 likes and has been shared over 100,000 times.
Just last week, on March 20th, 2018, Welch posted her story again and provided more detail. She noted that her miscarriage was ultimately a blessing in disguise — she desperately needed a surgery that would have been impossible to perform if she was pregnant. But that "silver lining" does not in any way numb the pain she still feels for her lost baby.
"People don't understand you don't heal from this no matter when you lost your child the pain never heals and the people around you never know because opening up is so damn scary," Welch said in her March 20th post.
And being pregnant again, Welch lives in daily fear that she will lose her baby again.
Welch's story is a reminder that pregnancy is never something to take lightly. It's so often a blessing that can be ripped away in an instant, and cause so much pain in a woman's life.
As we inch closer to April Fools' Day, take Welch's experience into consideration and refrain from pulling a fake pregnancy prank. It's never funny to laugh at something that has caused turmoil in another's life.