These college students put a poster of themselves in a McDonald's to increase Asian representation, and no one noticed for 51 days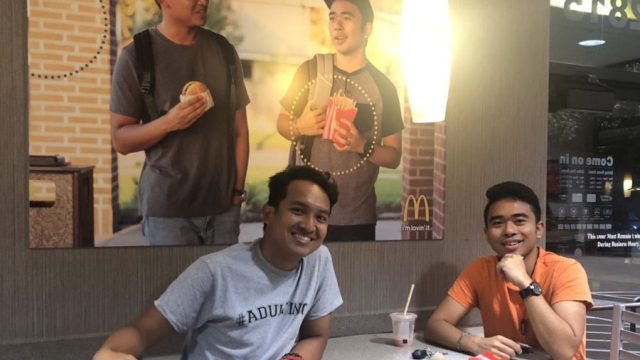 One order of large fries with a side of Asian representation, please. Over the weekend, 21-year-old college student Jevh Maravilla noticed a lack of representation in the posters at his local McDonald's. He then decided to take the matter into his own hands. Maravilla and friends took to creating a fake (yet incredibly professional-looking) McDonald's advertisement featuring themselves, and get this: the faux poster went unnoticed for 51 days.
In his video detailing the making of the prank, Maravilla showcased the lack of Asians in the ads at the McDonald's in Pearland, Texas. Citing the impact of Crazy Rich Asians and dialogue surrounding Asian representation, he says in the video: "Remember, folks, all races deserve recognition, and I guess I did my part." After noticing a blank wall at his local fast food chain, Maravilla got to work. He and a friend staged in a faux photoshoot (complete with proper edits) and had the image blown up and delivered to them via Office Depot. After purchasing a McDonald's polo from a thrift shop for $7 and creating a fake employee ID, the elaborate plan was put in motion. The duo, with the help from several friends, were able to get the giant photo up, undetected.
Watch the full YouTube video below, which shows the discreet operation going unnoticed by employees.
https://www.youtube.com/watch?v=0rJHC6nY4F8?feature=oembed
Maravilla took to Twitter on Sunday, September 2nd to share a photo of the finished project, noting that the McDonald's has yet to notice the poster.
We can't stop laughing at how well the image blends in with the other advertisements.
And let's take a minute to marvel at this ingenious, DIY McDonald's uniform.
Maravilla's tweet quickly went viral, so the secret is now out. McDonald's has yet to respond to the glorious faux poster, but we seriously hope the genius, inclusive masterpiece stays up. Here's to more Asian representation. And chicken nuggets.