Too Faced's latest sneak peek is mysterious glittery magic, but we know it's going to be GOOD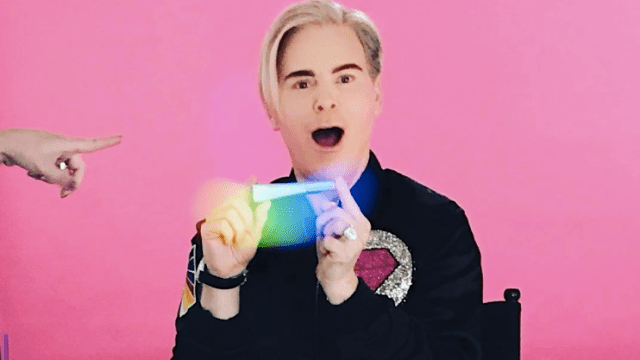 Hold the phone, because Jerrod Blandino, Creative Director and Too Faced co-founder just gave a sneak peek at something sparkly! This morning we got a quick look at packaging for a new product that we can only surmise is colorful and GLITTERY. The sparkling video on Jerrod's Instagram says the word "GLITTER"  in pink, fuchsia, violet, blue, teal, green, and yellow. The anticipation is almost too much to handle!
Too Faced has been very mysterious lately. Last week, we saw what appears to be a new Unicorn Tears lip product (liquid lipstick?). In January, we got a peek into the labs where a melted metallic unicorn product was being mixed up.
Could all of these be linked in Too Faced unicorn unison? We're here for it!
We have a few ideas about what this packaging might contain! We're thinking palette, because that would give the chance to use the entire rainbow as opposed to single lippies. We are also thinking that they are probably glittery shadows — something that the makeup world has Blandino to thank for. He has mentioned wanting to bring back old school glitter shadows in previous interviews.
Then there's the possibility of an innovative glitter eyeliner. As PopSugar points out, Jerrod dropped the news last year during an interview with WWD. "I created an eyeliner that's fully glitter, but will peel off like latex rubber so it doesn't get everywhere," he said at the time. "I don't always want to do something better, I want to do it different. That's how you change the world. You don't change the world by doing it better." Ain't that the truth, Jerrod!
We also have a clue in to inspiration by what Jerrod is eating! He is the best at using sneaky emojis, and here is a rainbow!
Just like he did last week with the unicorn!
We can't say for sure what Too Faced might be cooking up, but with a rainbow of color and a heavy dash of glitter, we definitely want it!