Too Faced's collaboration with beauty vlogger Nikkie Tutorials is finally here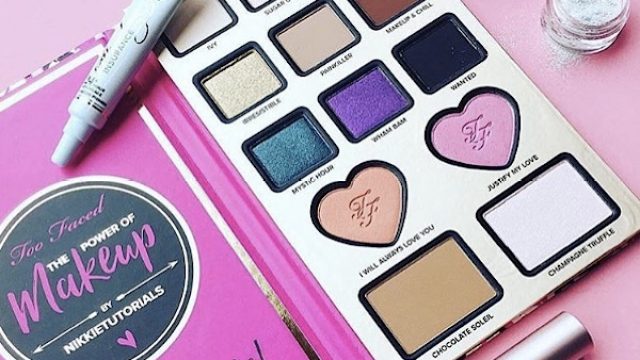 Too Faced Cosmetics is not going to be happy until they drain my checking account, wipe out my savings, obliterate my money under the mattress, and make me tap into my emergency money from my grandma. If you haven't been keeping up, the cosmetic brand has been rolling out products and collabs, each one more adorable than the last.
There's the peach palette that we haven't even seen inside of yet, the Kat Von D heart-shaped palette, and we can't forget the Beauty Blender collab. DEFINITELY need all of them, thanks.
Fans of the brand have been waiting for the launch of another huge collab, this time with Nikki De Jager aka @NikkieTutorials.
Too Faced's Jerrod Blandino announced the collaboration with Nikkie earlier this year.
Today, the palette is finally available for purchase.
https://www.instagram.com/p/BJIqjcrD-qf
The Power of Makeup Palette features nine new eyeshadows and Too Faced's Better Than Sex Mascara in…wait for it, wait for it… PURPLE!
The ONLY thing that could make this palette any better is if someone can confirm that the "I Will Always Love You" shade is meant to honor the late great Whitney Houston.
In case you're having a bad day, I'll just leave this right here. Get your karaoke on, boo.
https://www.youtube.com/watch?v=3JWTaaS7LdU?feature=oembed
The palette goes for $54 and you can get it at TooFaced's website and at Ulta.com.