Here are all of the Too Faced sneak peeks you missed during the long weekend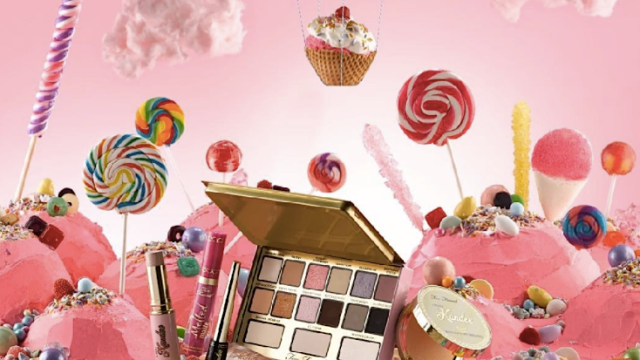 Our beloved Jerrod Blandino doesn't care if we just had a holiday weekend — he was hard at work giving us sneak peeks of new Too Faced products that are headed our way, and heaven bless him for it. It looks like there will not only be additions to their palettes and some goodies that support Jerrod's favorite animal welfare organizations, but we're already getting a look at holiday treats!
Even if you're the type to complain that holiday shopping starts too early, we can all agree that this is just the kind of Christmas news we want to hear about.
Jerrod Blandino loves treating us to Too Faced sneak peeks, and we will never get enough of it.
What could this palette possibly entail? The packaging looks slightly holographic, but the shadows themselves appear to be quite matte. And the shades are super unexpected and chic, don't you think? Those pink and green shades at the bottom of the picture are pulling at our beauty-loving heart-strings.
It also looks like a Clover-inspired plushie is headed our way.
We have a feeling that proceeds from this adorable, cozy toy are going to go to Too Faced's Animal Welfare Fund. Jerrod's commitment to protecting and sheltering animals in need is just one of the many reasons we adore him.
We are the most excited about the photos of what look to be part of Too Faced's holiday sets.
This set seems to feature three small, gorgeous eyeshadow palettes called I Believe In Pink, Super Fun Night, and Natural Beauty. The shades in these palettes are stunning and totally capture Too Faced's lighthearted, feminine, and sweet aesthetic. We have a feeling these are going to be our must-have winter shades.
A planner-themed palette that includes an actual day planner — it's just too good. This beauty is going to be an Ulta exclusive, so we're definitely going to be on the lookout come the holiday season.
https://www.instagram.com/p/BV_MaQCF1OD
What are you looking forward to? It's impossible to pick just one.