Too Faced just released this sneak peek of new Melted Matte Liquid Lipsticks and we're screaming!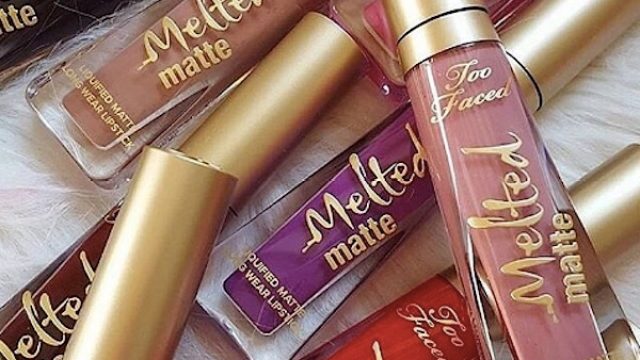 A brand notorious for keeping makeup lovers on their toes, Too Faced co-founder Jerrod Blandino posted a teaser of the new Melted Matte Liquid Lipsticks on Instagram and we're already lusting after the mysterious new flavors of lip shellac! Just three days ago, the brand brought back their Peanut Butter and Jelly eyeshadow collection, and now they're posting teasers for new Melted Matte Liquid Lipsticks?! This is out of control (in the best way)!
As you can see from the above photo, the new colors are as luscious and kissable as you'd expect. But what are they named?! When can we have them?!
Melted Mattes are loved for their long-lasting formula, so fans will be super stoked to have more shades to choose from.
While we desperately wait for these dramatic new lipsticks to be released, the Too Faced Christmas in New York holiday collection is available and equally to die for!
If you're feeling stir-crazy with desire for these products — have no fear, you're in good company. Back in August, a baby was caught eating a Too Faced Chocolate Eyeshadow palette, and honestly, we can relate.
https://twitter.com/udfredirect/status/759470614352498688
Can they just release these new Melted Matte Liquid Lipsticks as soon as possible, so we're not driven to eat chocolate-scented eyeshadow in anticipation?!
false
In the meantime, we have other Too Faced releases to look forward to as well, like that tiny peach palette!