Thank you makeup gods: Too Faced has blessed us with more Sweet Peach palette news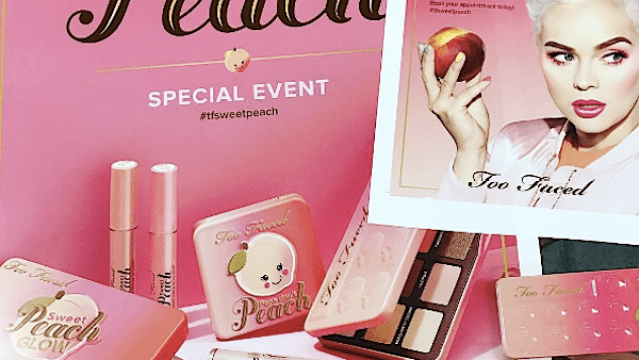 Last week we were delighted to hear about Too Faced Cosmetic's latest palette, Sweet Peach Glow. The blush-bronzer-highlighter combo is just what we need to glow up during the upcoming dark winter months. So imagine our excitement when Too Faced co-founder Jerrod Blandino surprised us with the news that the Peach collection is expanding even more! He showed us a sneak peek of the upcoming Sweet as a Peach special event on his Insta.
There's already the return of the Sweet Peach eyeshadow palette, and the crazy adorable update to the Papa Don't Peach blush, so what else can we expect?
Judging by the photo, it looks like a lip gloss! Wouldn't that just be the perfect addition to Sweet Peach Glow?
Whatever it is, it's headed our way in December and we can't wait!
Til then, we will just have to make due with their Peanut Butter and Jelly palette which just got back in stock.
One of the things we love about Too Faced Cosmetics is how beautiful their products are, from the packaging to the product itself. They're made of great quality ingredients so you know they're worth the investment and most definitely worth the wait!
And, as we can see, their fans agree!



It's never too early to start dropping those hints!

Whatever it is, we'll be able to count on it being universally flattering, high quality, and absolutely lovely. December can't come quickly enough!