Facebook just added Marketplace, a new feature that's going to change your life
Forget about getting yourself into questionable Craigslist situations from here on out because Facebook just launched Marketplace, a new in-app feature that allows you to buy from and sell to other Facebook users in your area. Marketplace will be available to Facebook app users (via iPhone or Android) in the United States, United Kingdom, Australia, and New Zealand TODAY. You must be 18 or older to use, which seems like a strange caveat, but is understandable when it comes to the issue of Facebook's liability.
In past recent years, the rate of Facebook users using the site for buying and selling within private groups has risen exponentially. Buying and selling on Facebook is easier than dealing with Craigslist and safer because of the access granted to people's profiles which makes bartering more transparent. Marketplace will help groups like these work more efficiently.
After your Facebook app updates, you'll notice a new icon on the bottom bar where the "Messenger" button used to be. Clicking the little bodega will bring you to the Marketplace homepage. It'll look something like this: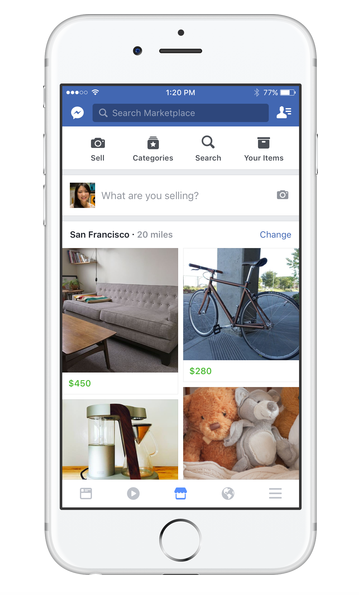 These photos are items that are currently for sale in your area. You can browse through the homepage or you can search for something specific at the top of the app, as well as readjust your location preferences to widen or limit your search. When you find what you're looking for, tap on the picture to learn more about the product and about the seller. You can also save the post and check it out at a later date.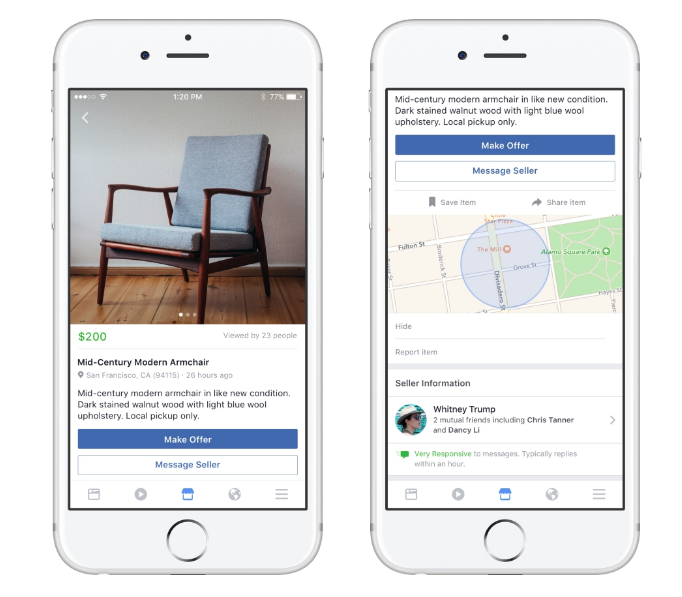 Once you decide to make the purchase, just message the seller to let them know you're interested and then make them an offer they can't refuse. Then it's up to the two of you to figure out price, pick-up, payment method, etc. Marketplace doesn't have a payment feature like Venmo, but we wouldn't be surprised if a payment feature is in the works for a future update.
Posting items to sell is even simpler and it's just like posting a Facebook status or sharing a photo. Upload a picture of your item, add a description, price, and location, and then you're set to sell! Check out the video below to see the app in action.
https://www.youtube.com/watch?v=rrWrHKfJu4k?feature=oembed
So start going through your closets and pulling out things from under your bed that you haven't seen in years. Making money (and spending money) has become super easy thanks to Marketplace. You'll only have to wait a matter of hours now before the app is launched and treasures start appearing at your fingertips!
Happy selling and happy shopping!