Facebook and Twitter are in social media fight, but it's not what you think
Well, here's a dose of irony: When news of a flame war between two companies was reported on Facebook's Trending List, it led to a flame war between Facebook and, you guessed it, another company! Alanis Morissette should sing a song about that.
The trouble began last week when Wendy's and Burger King traded barbs, ending with Wendy's tweeting it would respond to its rival's antics by serving "edible food." This sick burn (can you feel those grill marks?) became national news, eventually making its way to Facebook's Trending List. So far, no problem, right? Well, Facebook happily named the brands involved, but not the platform on which they sparred.
According to the folks at Facebook, the Wendy and Burger King's Twitter fight happened not on Twitter, but on "Social Media." Vague, much?
Evidently, the word "Twitter" is something of a stumbling block for Facebook. The company seems to outright refuse to use it, particularly in its Trending column. Most Twitter-related stories are described as "Social Media" ones. And people are starting to notice:
Whoa, Facebook. That's some serious shade.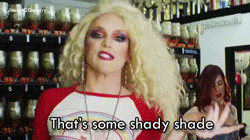 Facebook's ostracization of their brand has caused some Twitter executives to call foul. Twitter COO Adam Bain has clearly lost all patience with the euphemism. I can't say I blame him.
When BuzzFeed asked Facebook to comment on why the Trending column often refers to Twitter as "Social Media," a Facebook spokesperson sent the following response in an email: "Trending topic descriptions and summaries are written with the goal of making sure that the topic is clear and well-summarized, so that people get an accurate summary of the news event quickly." Well, that's not really an answer. Seems to me the word "Twitter" is a heck of a lot more accurate than "Social Media."
This week Facebook poached Twitter product head Kevin Weil to work for Instagram, and Facebook COO Sheryl Sandberg recently began referring to Facebook as the new "town hall" — a phrase that sounds a lot like Twitter's description of itself as the "global town square." Yikes. Watch your back, Twitter! If you fall, where else will I go for my daily fix of hilarious 140-character jokes?
(Images via Twitter, Giphy)