A Dentist's Easy Hack for Making Your Mask Fit Better Is Going Viral
"Wow this combines all my current obsessions: DIY tutorials; and staying alive."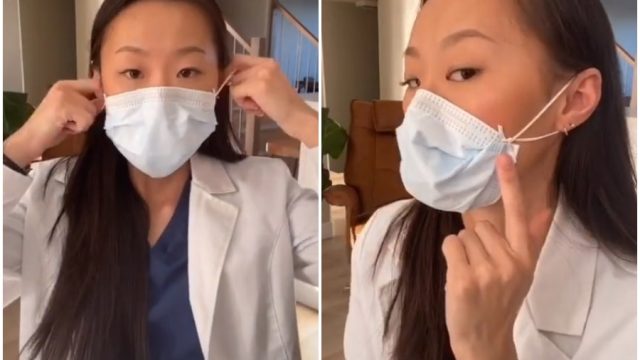 Hate to nag, but you must—we cannot stress this enough—wear a face mask when you're in the general vicinity of people you don't live with. But if you struggle with #smallface, you're likely also struggling with #loosemask, which is not only annoying, but it also doesn't provide the protection from coronavirus (COVID-19) that the mask is intended for. There's a fix for that! Dr. Olivia Cui, dentist and newly minted TikTok star, shared a super-simple hack to help your mask fit better.
The TikTok video is now going viral (like, hundreds of thousands of views viral), with celebrities like Kristen Bell, Katie Couric, and AnnaSophia Robb posting about the hack on social media.
It'll only take one very well-spent minute to watch Dr. Cui demonstrate this face mask hack. But to map it out for you:
Fold your mask in half.
Tie a knot in each ear loop, staying as close to the corners of the mask as possible.
Open the mask.
You'll see a small opening at the sides of the mask, so tuck those sides in.
Put it on!
"In absence of N95s, this might be a good alternative," Dr. Cuid says.
On Instagram, AnnaSophia Robb demonstrated the mask hack for her "small faced friends," showing her cool 1.1 million followers just how easy it is to do.
Over on Bell's Instagram, where she reposted the video from Couric, commenters are gushing about the sheer ingenuity (also life-saving qualities) of this hack.
"Wow this combines all my current obsessions: DIY tutorials; and staying alive," user @the_also_pan wrote. 
Good to know: @alanahollandtv said, "OMG!!!! This works so well for small faces! I just tried it and it even worked well with a cloth mask with folds."
As a reminder, the CDC recommends that everyone over the age of 2 wears "a cloth face covering in public settings and when around people who don't live in your household," especially when maintaining social distancing is difficult or impossible. Thanks, Dr. Cui, for giving the world one less excuse to not wear a mask. 
As information about the coronavirus pandemic rapidly changes, HelloGiggles is committed to providing accurate and helpful coverage to our readers. As such, some of the information in this story may have changed after publication. For the latest on COVID-19, we encourage you to use online resources from CDC, WHO, and local public health departments, and visit our coronavirus hub.