Here are four awesome ways you can rock fabric in your hair like Kendall Jenner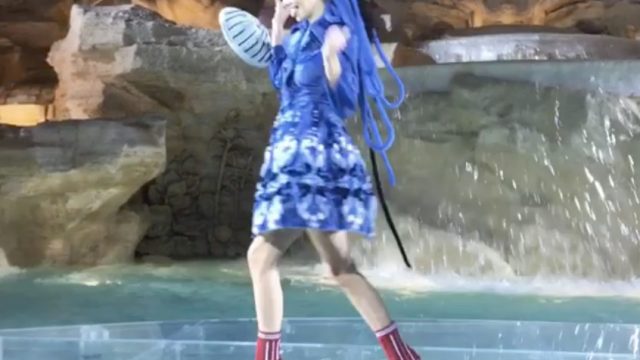 On Wednesday, Kendall Jenner posted a video to Instagram that contained several things we were jealous of. First, she was at the Trevi Fountain in Rome, and second, she was rocking a hairstyle that we had never seen before. While the 20-year-old model chopped her hair off into a lob last month, in her current shoot for Fendi, she isn't just rocking long hair, but long fabric as well.
If you look closely at the video, you can see that Kendall's ponytail is accented with bright blue fabric, and while that might be a little much when it comes to our everyday hairstyles, there's no reason we can't pull inspiration from it and incorporate fabric into our routine.
We did some digging on Instagram and found four funky ways to wear colorful fabric in your hair:
1. Use fabric like extensions:
Attaching fabric to your normal hairstyle gives it some extra length and oomph — plus, it's super easy. You just need fabric and bobby pins!
2. Weave fabric into your braid:
Section your hair into two pieces and use a piece of fabric as the third. Then, braid as normal!
3. Clip fabric in as an accessory:
For those who want to keep things subtle, just a little scrap of fabric goes a long way if you clip it somewhere cute.
4. Wrap fabric around your hair:
While this takes a bit more time, you can use thinner strips of fabric or thread to wrap around your hair and go for something a bit more elaborate.
So much #hairinspo! Thanks, Kendall!