Ezinma mixes hip-hop and classical music to send a bold message about blackness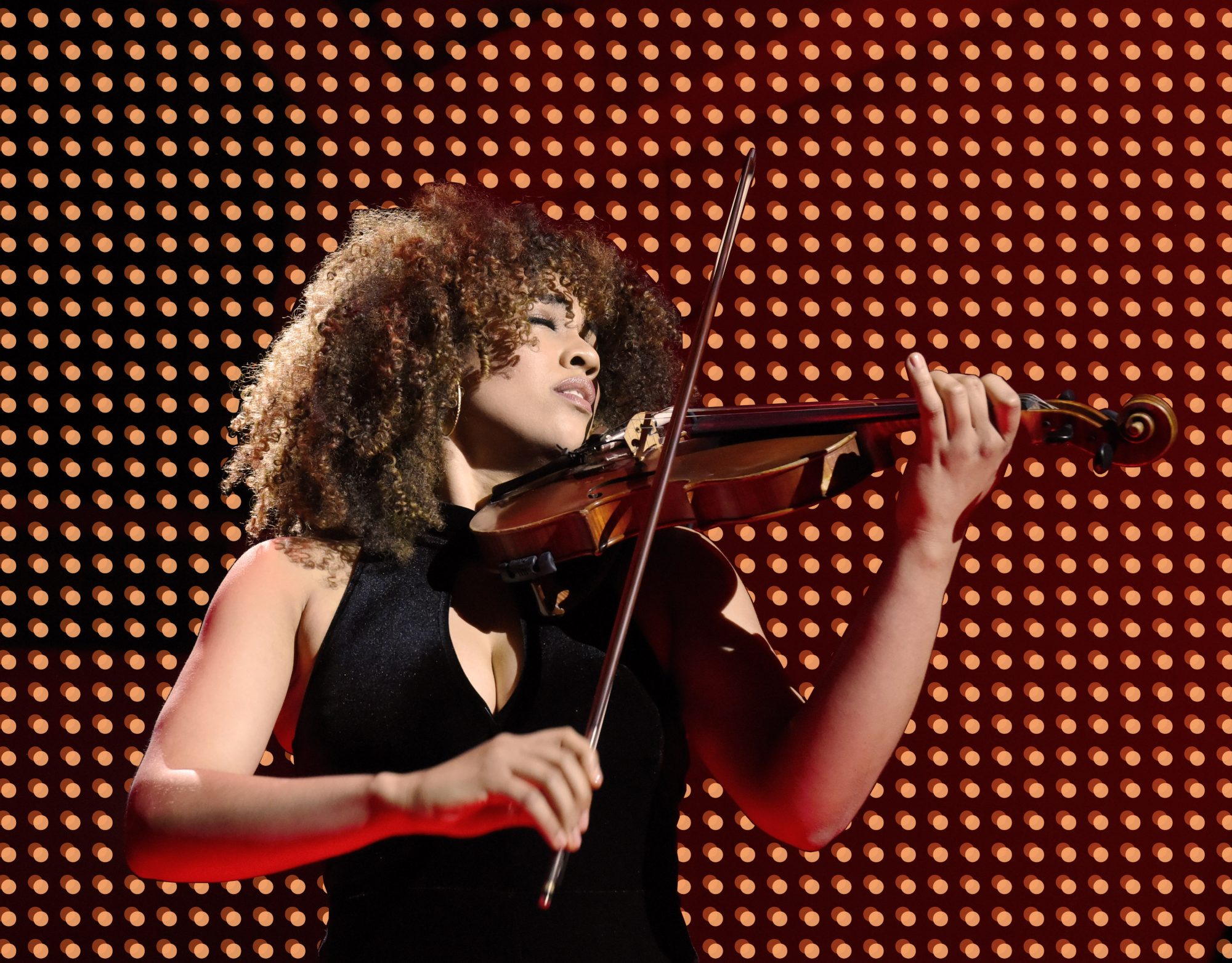 The hype of Beyoncé's 2018 Coachella performance was palpable even as I watched via grainy cell phone video. Millions of eyes fell on Queen Bey that night—but as the opening medley dipped into a poignant place with Beyoncé crooning the Black National Anthem "Lift Every Voice and Sing," her musicians stole my focus. Eight string players framed her center stage. And they were all women of color.
As most of Bey's army burst into fiery, marching band-inspired choreography, the string players maintained steady bow strokes and graceful swaying, anchoring the poignant hymn's emotional core. One of the violinists was Ezinma: situated front-right, she stared boldly ahead as Beyoncé held a long note, thrusting her bow overhead like a torch. She told me earlier that the fact that she played among fellow musicians of color—when she herself did not meet any black string players until age 13—was not lost on her.
Like many New York City-based musicians, Ezinma's art took her underground—literally. The first time I browsed her YouTube videos and found one shot on the W train, I gasped. As a former New Yorker, my initial question was "How did she find an empty subway car?" Quickly, my focus veered elsewhere. Standing in the middle of the car, Ezinma (pronounced Eh-ZEE-ma) balanced as the train sped out of Canal Street station. The stunning violinist took four steps forward, gazed into the lens with a piercing swagger, and brought her instrument to her chin. Against a hypnotic beat, she performed a cover of Post Malone's hip-hop banger "Rockstar." It's a surprising twist to hear the lyrics "I've been fuckin' hoes and poppin' pillies / Man, I feel just like a rockstar" replaced by Ezinma's honeyed violin lines. As the song built, she seethed with a quiet, simmering energy. The butterscotch coils gathered atop her crown bounced with her movement; her painted fingernails flew across the strings. However, perhaps the most striking thing about Ezinma was her sound.
There's a confidence to the violinist, producer, and composer's performances that took root early on. "You don't see a lot of little black girls playing the violin," she told me. She spoke on a bus on the way back to Coachella for its second weekend, her voice low yet warm over the phone. "I think a part of me always felt a little bit detached, or as if I didn't quite fit in." Ezinma began violin at age four. Like me, she learned via the Suzuki Method, an international music curriculum designed with young children in mind. "I loved that I would put in the work and see results," she recalled.
Her biracial heritage exposed her to an eclectic world, also like me. Growing up, cultural aspects from either side of my bloodline mingled as one; I didn't realize for years that it was unnatural for Filipino lumpia to share a plate with Scandinavian kringle and sarmice, Serbian cabbage rolls. Born in Lincoln, Nebraska to professor parents—a black Guyanese father and a German-American mother—Ezinma cultivated passions for seemingly disparate music types. She played in school and youth orchestras and competed in junior classical competitions. But she also entered bluegrass fiddling contests. Her father, a big music fan, immersed her in funk, reggae, jazz, and Caribbean soca. Elsewhere, she soaked up hip-hop and trap, taking to artists like A$AP Ferg and Beyoncé.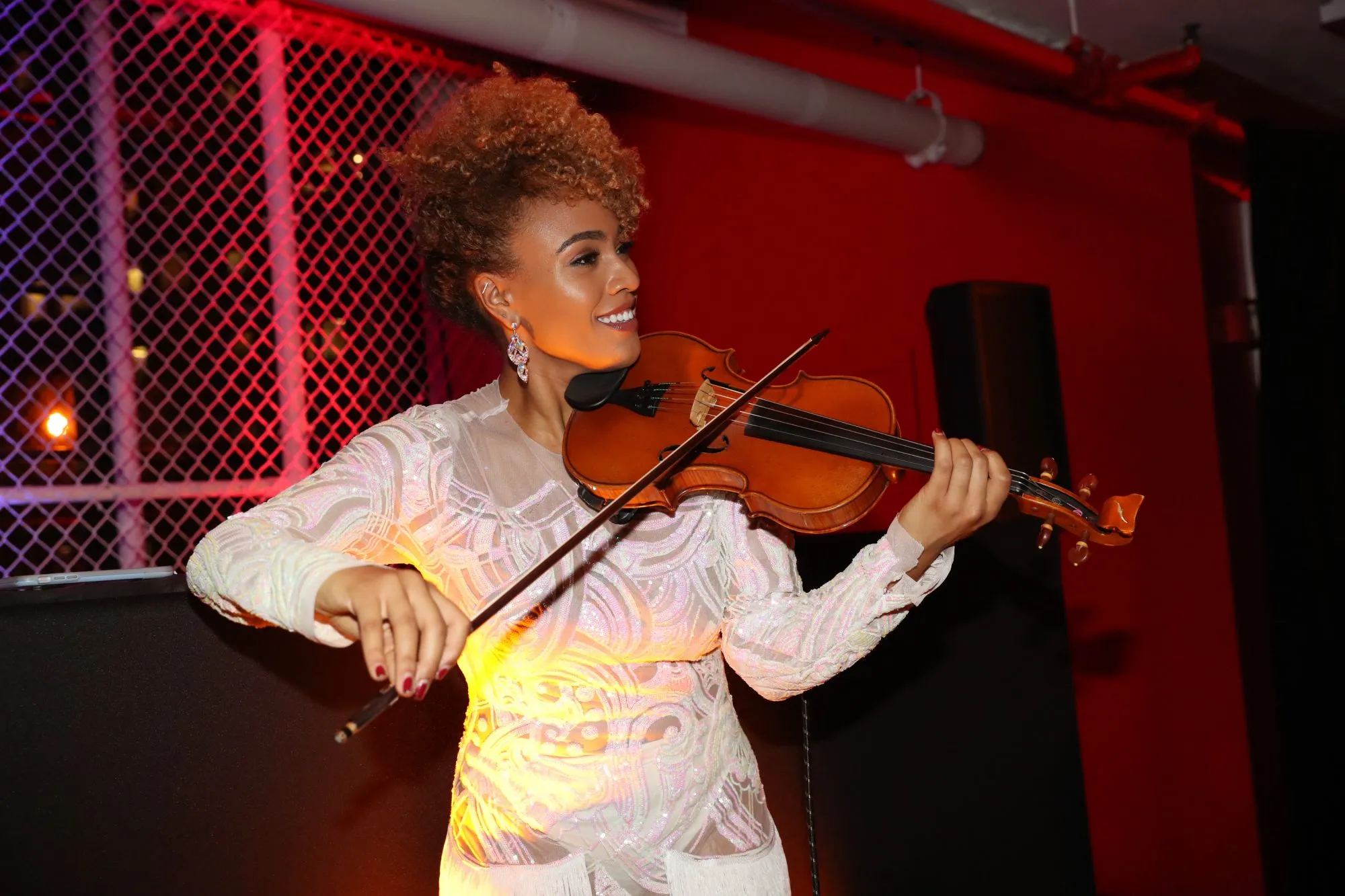 I grew up in the San Francisco Bay Area, where being mixed-race is far from rare. For Ezinma, where the only other Guyanese person she knew just happened to live next door, things were different. "Especially being from Nebraska, I didn't encounter very many non-white or non-Asian violinists until I was a teenager," she told me. Ezinma said she often felt the need to defend her blackness. Some people—both black and white—were perplexed by her presence in an orchestra. There was a sense that this wasn't "what black people do."
One middle school experience served as a pivotal lightbulb moment. As in most orchestras, one's chair placement is important; stronger players sit closer to the conductor. After discovering that her teacher made her third chair, Ezinma was confused. "I went home and I was like, 'Dad, I know I'm better than them,'" she said. Her father's response opened her eyes: "People are not going to see you for what your talent is. People are going to see you for the way that you look…Because of that, you have to work so much harder than everyone else." This convinced her to dispute her position. Discovering that her orchestra had a system for contesting such placements—à la the college marching band movie Drumline—she challenged the second chair to a blind test. They recorded themselves playing the same piece on cassette tapes. After, their peers judged and voted. "I won unanimously," Ezinma said. She added that the process was positive; the girl she surpassed is still a friend. From there, she also challenged and won the first chair.
This assertive spirit drives much of Ezinma's music-making today. At its core is a bold expression of her identity. There's also a sense of declaring her right to create the music she wants—which, at first, is not quite what it seems. A closer listen to Ezinma's hip-hop covers reveals that they're not just string versions of Drake songs, but intricate arrangements born from classical training. Like her own identity, they blend myriad elements. In one video, she plays a catchy mashup of "Despacito" and "Shape of You," nimbly switching between the first's infectious Reggaeton melody and the second's samba-inflected syncopation. In another, she revamps "Bodak Yellow" with an elegant lilt; the fierce jam becomes a lush orchestration. Like more musicians these days, where versatility is a smart career move, Ezinma is used to switching hats. She's performed with Stevie Wonder, British pop group Clean Bandit, and Mac Miller. A conservatory graduate, she also plays plenty of classical gigs, and has performed at Carnegie Hall and Lincoln Center.
Visibility is vital in classical music. While more crossover artists and musicians of color are emerging, there is still a gulf. According to a 2016 report by the Sphinx Organization, which aims to increase arts diversity, only 4.3% of American orchestra members are black or Latino. When Ezinma does youth outreach to schools and communities of color, she gives young players references, mentioning other artists to check out. It's something she didn't receive herself growing up. "At the time, I don't think there was an awareness of how isolated a young person of color who's learning a string instrument might feel," she said.
With this lack of diversity in classical music, there's a line wedged between classical and hip-hop. While it's more common for chart-topping hits to meld several genre elements—folk, pop, funk, or dance—Ezinma still observes bewilderment and discomfort from some classical music fans about hip-hop, and vice versa. Tired stereotypes still exist: that classical music is "stuffy" or "boring," while hip-hop is a "low-brow," un-elevated art form—still marginalized in mainstream media. The divisions are ironic, Ezinma added, especially since hip-hop tracks that sample classical pieces can work on a sonic level. "It's like, 'Wow! This is such a proper, big orchestral sound,'" she said, citing artists like J. Cole and Meek Mill. "It just sounds epic."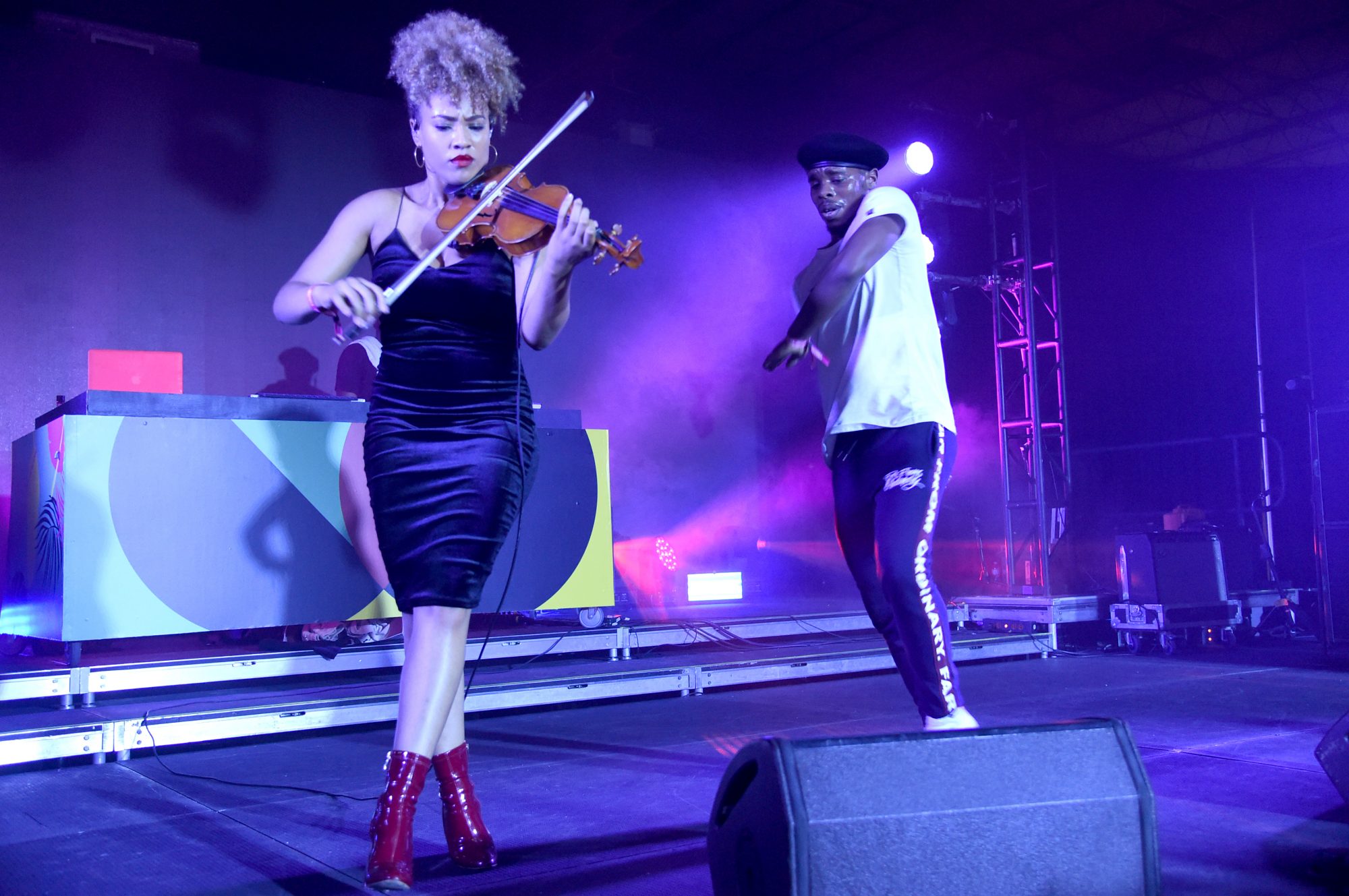 Ezinma makes a point to happily bridge what others view as separate, so it's no surprise that her debut album, out August 11th, arose from her duality. Key of Black Minor opens a door between classical and hip-hop. In doing so, it's also a symbolic declaration of Enzima's biracial identity ("It's really a celebration of my blackness," she said). She sounds excited as she speaks, which is something I relate to. As someone who is often referred to in segments—as "half-Filipino" or "half-white," as if I comprise only fragments of an identity—it's affirming to see being biracial presented as an alloy. There isn't a partition between my two "halves." Despite the attention her YouTube trap covers have garnered, Ezinma said it was important to present this idea within her own compositions. Don't expect classical spins on trap songs—she posited that fans may be surprised at how classical-heavy the 11 tracks are.
Ezinma's two co-producers are Anthony Barfield and Orrin Wilson of Velocity Music. Like her, they are classical conservatory trained. Ezinma largely conceived and co-produced several tracks in hotel rooms while on tour, the three collaborating to create an organic hybrid. The album's lodestone is her composition "Black Minor Symphony." A nod to tradition, it follows the structure of a four-movement violin concerto. But it interweaves plenty of trap beats and unusual sounds. The last movement is a key example: It opens with a tempest of trilling violins and includes playful Mozart references. However, a hip-hop beat underpins everything. Another track is an homage to her "bluegrass head" mother. It's a free-flowing fiddle piece galvanized with high-hats and 808s. The fusion makes it gel both in clubs and traditional concert venues, Ezinma insisted. Fans of one genre could leave with an appreciation for the other. Her music fusion is an ever-evolving process: she hopes to visit Guyana one day and explore its folk tunes to deepen her connection to her father's side.
More than a doorway between classical and hip-hop, Ezinma hopes her work is a racial conduit, too. It's a place to ruminate on what it means to be mixed—a niche where listeners can explore the sound as not two genres coming together, but as an entirely new form. As a biracial woman, the declaration that being mixed is a valid whole entity—and not something defined only by its disparate parts—is powerful. "It was really important to just declare my voice," Ezinma told me. "It's a completely open lane."