Everything You Need to Know About Getting Eyelash Extensions
They're a lot of upkeep, but you'll wake up every day with luscious lashes—no mascara needed.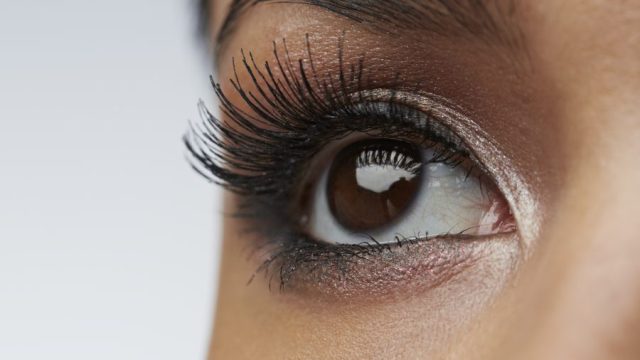 As is evidenced by the many types of lengthening mascaras that promise sky-high lashes and the countless types of false lash strips available at the drugstore, long, luscious lashes are universally sought after. I speak from experience, as I have short, stubbornly straight, and sparse lashes. Each morning, I diligently curl my lashes and apply several (okay, like six) coats of my favorite thick, dark mascara to make them magically appear around my eyes. So when I first heard about eyelash extensions, they seemed like the greatest invention on earth. A semi-permanent solution that would make me look more awake every morning without even having to fuss over mascara? Yes, please.
As they've gotten more and more popular over the last five years or so, it's likely that you've seen eyelash extensions on everyone—from people in the grocery store to celebs on the red carpet to popular Tiktok stars. But it's important to note that good, high-quality eyelash extensions are not something you can get from your normal nail salon (even if many offer them). The process is longer than your average manicure, takes more upkeep, and requires a trained professional in order for it to be done properly. Also, it requires your eyelids to be taped shut for application, just FYI.
Nonetheless, eyelash extensions offer an awesome solution for short, straight lashes that may want an extra boost. Here are the answers to your most burning questions, along with advice from trained experts about how lash extensions are applied, how much they cost, and more.
What are eyelash extensions?
Eyelash extensions are pretty much exactly what they sound like. Similar to how hair extensions are added to enhance the length and volume of your natural locks, eyelash extensions are individual lashes that are applied onto your natural lashes to make them look thicker and longer. They are made from different types of fibers (either synthetic, silk, or faux-mink), which you select based on your preferences and desired price point.
How are they applied?
Application is a tedious process, which is why it's best left to the pros. To apply, each faux lash is dipped into a specially designed glue (this is not the kind you get with your drugstore lash strips) and bonded to each of your natural lashes, one at a time. The technician places each lash onto one of your own lashes using a tiny, tweezer-like tool, seamlessly blending them with your lash line and natural hairs.
What can I expect at my eyelash extension appointment?
1. Choose a style.
"Every treatment begins with a thorough consultation to determine what kind of lash style you are looking to achieve," explains Jaimineey Patel, Head of Training at Blink Beauty Bar (BBB) in London. "Based on your answers our expert therapists will pick a suitable lash shape, length, and thickness for you." This is where you'll select the type of fiber you want to use, and can usually look at a menu with different style options to nail down the kind of look you're going for. You can also select what type of curl type you want—options include a J, B, C, or D curl—which can determine how dramatic and flared the final result will be.
"We recommend being very clear about your desired look during the consultation process," says Patel. "For those looking for a more dramatic look, we typically recommend a full set of lash extensions, and those who want a natural look could opt for a half a set."
2. Lie down.
Eyelash extension appointments are generally relaxing since you're lying down with your eyes closed for an entire one-two hours. The technician will begin by cleansing the eye area (though you should arrive at your appointment with no eye makeup on) and applying a pad under the eyes to avoid the lashes sticking together. They will then gently place medical tape on your top and bottom lids to keep them closed for the duration of the process.
The taping down of your eyelids can be a bit jarring at first. It may involve some involuntary twitching and initial discomfort, but your technician should help you to relax and adjust the tape so that it doesn't bother you.
*Pro-tip: DO NOT drink caffeine before your appointment, or this process will be much more difficult.
3. Relax.
Applying your first set of lash extensions can take up to two hours, depending on the style and number of lashes being applied (a full set ranges from 80-120 individual pieces), so try to relax and free your mind from thinking about the rest of your day. Once you're in for a lash appointment, you're in. Some people even take the chance to nap.
4. Voilà!
One of the best parts of an eyelash extension appointment is that you literally don't have to lift a finger. Once the technician has finished applying the lashes and the glue has dried (they sometimes use a tiny fan to help with this) they will remove both the pads and tape and show you your brand-new lashes. Most salons will also give you a brief tutorial on upkeep and aftercare (you'll need to come back for a fill every three to four weeks if you want to keep up your new lash look) and provide a dry spoolie brush for you to brush and maintain the lashes.
Before eyelash extensions: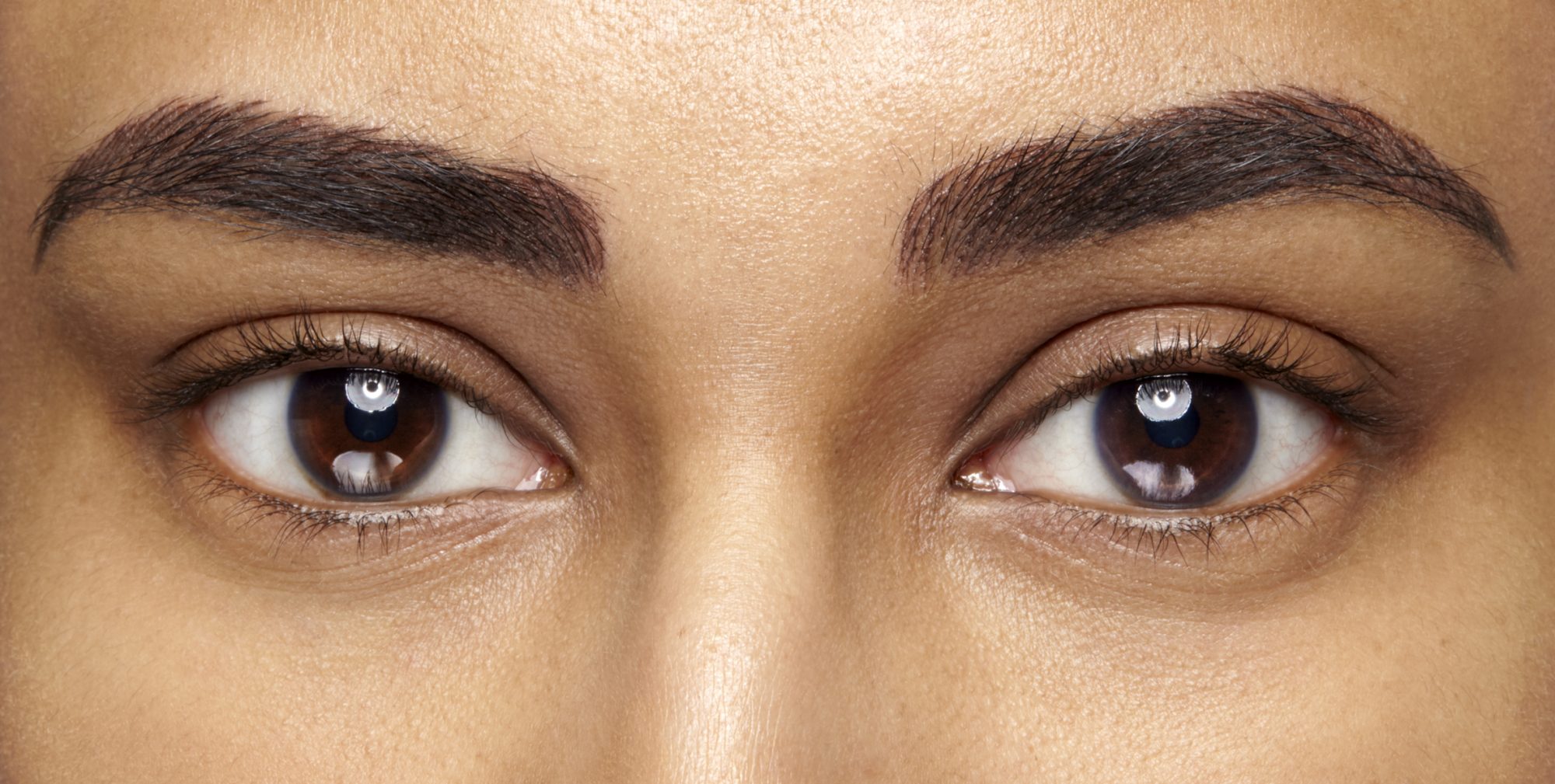 Natural lashes without makeup or extensions–yet.
After eyelash extensions: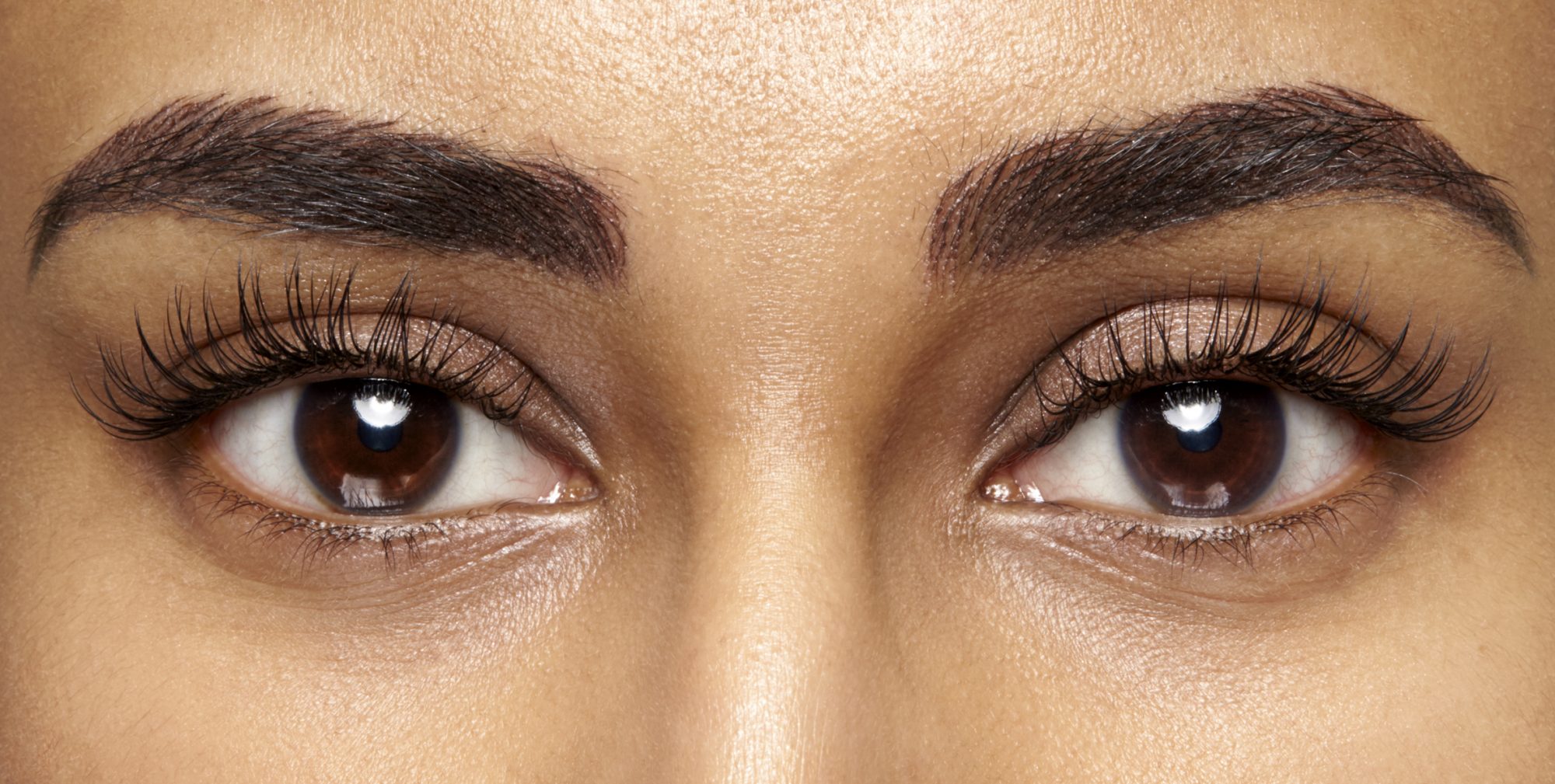 After a full set (around 80-120 lashes) has been applied for a fuller, darker look that's still natural.
How much do eyelash extensions cost?
At Envious Lashes, a popular NYC-based eyelash extension salon frequented by celebs like Mary J. Blige, prices start from $105 for an introductory starter lash kit but can range to upwards of $550 for more voluminous "Bombshell" lashes. The pricing depends on your salon's location and the number of individual pieces applied to each eye, but regardless, getting eyelash extensions is a financial commitment—especially since you'll have to pay for fills every couple of weeks.
How long do eyelash extensions last?
According to a representative from Blink Beauty Bar, lash extensions typically last four to six weeks (just under a full growth cycle of natural eyelashes). However, since everyone's lash growth, skin type, and makeup routine differs, this can change from person to person. Once you notice your lash extensions looking less luxe and more sparse, it's probably time to schedule a fill.
Will eyelash extensions damage my natural lashes?
Patel explains that lash extensions only cause damage to your natural lashes if they are applied incorrectly, which, according to her, "is why it's key to choose a salon that you trust or has been recommended." Patel tells that, "At Blink we have a stringent training program in place to make sure all of our treatments are carried out to the highest standard, but this is the kind of thing you should be on the lookout for before booking any appointment."