Twitter has oh so many thoughts on these super revealing, $168 "extreme cut-out jeans"
As far as jeans go, there's a cut for everyone. Whether you prefer the high rise or the boyfriend fit, your go-to pair is probably an almost-daily staple. But if you purchased the extreme cut-out jeans from Carmar Denim, you might need to wear jeans over your jeans if you're planning on making it into the office (or…anywhere). Let's just say, we don't even know if these actually qualify as clothes.
Carmar describes the $168 dollar jeans (yes, they're well over a hundred bucks) as being "a high rise pant with large statement cutouts on front and back." They also describe the "jeans" as having a relaxed fit, which is a hilarious understatement. But make no mistake: The Carmar model rocks it…what little there is to actually rock.
Take a look: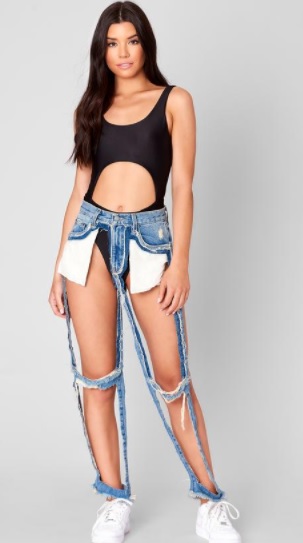 Carmar believes in its product. As the brand's Instagram states, "It's called fashion."
https://www.instagram.com/p/BiNTLoSHYoS
And as you might expect (and, perhaps, hope?), the people of Twitter have THOUGHTS. false false false false
While we probably won't buy these for ourselves, we admit it — these cut-out jeans offer a pretty daring look. And we've been wrong about new denim trends in the past (like that time Millie Bobbie Brown totally rocked those see-through jeans we were so skeptical about).
Surely someone out there is willing to drop $168 to give them a shot, and hopefully they'll also be willing to do an in-depth YouTube review. Because we still have so many questions.